It's simple, you need to eat to beat diabetes!  While November was the month of Diabetes awareness, it is important to remember basic tips to Beat Diabetes on any month of the year. I was invited to participate to The Landmark Group initiative Beat Diabetes. I prepared very typical Nordic style menu of Pumpkin salad, Quinoa with Fresh Herbs and Pan Fried Sea bass fillets with fresh dill and lemon.  Scroll down for Pumpkin Salad recipe and video.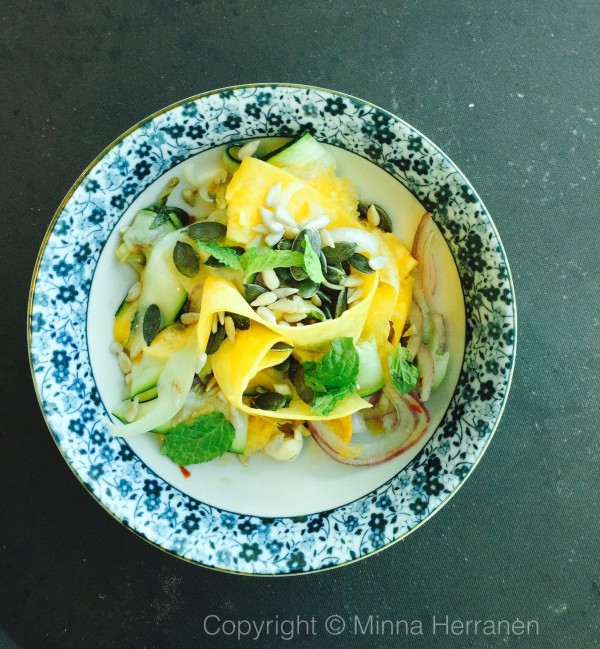 Balance your meals and make the healthier food choices. Think of adding healthier foods rather than limiting of what to eat. Pick up the foods which suits for your taste. I have listed some foods which you may add to your diet. They are also recommended by American Diabetes Association.
Food to include in your diet:
Eat more common non-starchy vegetables
Dark green leafy veggies
Fish high in Omega-3 Fatty Acids
Protein foods
Nuts
Berries
Whole grains; it means the entire grain—which includes the bran, germ and endosperm (starchy part)
Non-starchy vegetables:
Artichoke
Asparagus
Baby corn
Bamboo shoots
Beans (green, wax, Italian)
Bean sprouts
Beets
Brussels sprouts
Broccoli
Cabbage (green, bok choy, Chinese)
Carrots
Cauliflower
Celery
Chayote
Coleslaw (packaged, no dressing)
Cucumber
Daikon
Eggplant
Greens (collard, kale, mustard, turnip)
Hearts of palm
Jicama
Kohlrabi
Leeks
Mushrooms
Okra
Onions
Pea pods
Peppers
Radishes
Rutabaga
Salad greens (chicory, endive, escarole, lettuce, romaine, spinach, arugula, radicchio, watercress)
Sprouts
Squash (cushaw, summer, crookneck, spaghetti, zucchini)
Sugar snap peas
Swiss chard
Tomato
Turnips
Water chestnuts
Yard-long beans
The best choices of grains:
Bulgur (cracked wheat)
Whole wheat flour
Whole oats/oatmeal
Whole grain corn/corn meal
Brown rice
Whole rye
Whole grain barley
Whole farro
Wild rice
Buckwheat
Millet
Quinoa
Sorghum
The best choices of starchy vegetables:
Parsnip
Plantain
Potato
Pumpkin
Acorn squash
Butternut squash
Green Peas
Corn
The best choices of proteins:
Plant-based proteins
Fish and seafood
Chicken and other poultry
Cheese and eggs
Watch the Pumpkin recipe video here
Zucchini – Pumpkin Salad  recipe (for 4 persons)
Ingredients
1/2 pumpkin
1 zucchini
1 red onion
2 tbs sunflower seeds
2 tbs pumpkin seeds
2 tbs cashew nuts
green leave for garnish
Marinade / salad dressing
50 ml extra virgin olive oil or avocado oil
4 tbs of lemon juice (1 lemon)
½ ts chili flakes
1 ts Honey
2 ts fresh grated ginger
1 tbs fresh chopped mint
¼ ts ground black pepper
¼ ts salt
Mix all ingredients of marinade and keep aside.
Slice pumpkin and zucchini with potato peeler in to long slices or use spiral slicer to get long strips.
Slice the red onion with knife or mandolin to thin slices.
Mix vegetables with marinade and let stand for half an hour or more.
Roast seeds and nuts on dry pan; watch out, they burn quickly. Or buy ready roasted but not salted seeds and nut as per your liking.
Garnish marinated vegetables with roasted seeds and nuts and nice fresh green leaves.
---
Follow hashtag #eathealthy #beatdiabetes for inspiration at Instagram or Facebook.
You might check how easy it is to prepare fish in less than 10 minutes. Watch the video recipes of Pan Fried Sea bass fillets with fresh dill and lemon
Pumpkin Salad idea is from my all time favorite Finnish food blogger and cookbook author Mari Moilanen. I got permission to share. Look at her blog Jotain Maukasta aka Something Tasty.  She has food photos I can only wish to take.