I had first time in my life Black Forest Cake in Dubai couple of years ago when we moved here. I never knew about this cake before. Even in my family we like to make all kind of cakes, somehow I missed this German delicatessen. We hardly ever bought cakes from markets or bakery in Finland, because it was too expensive and not that delicious.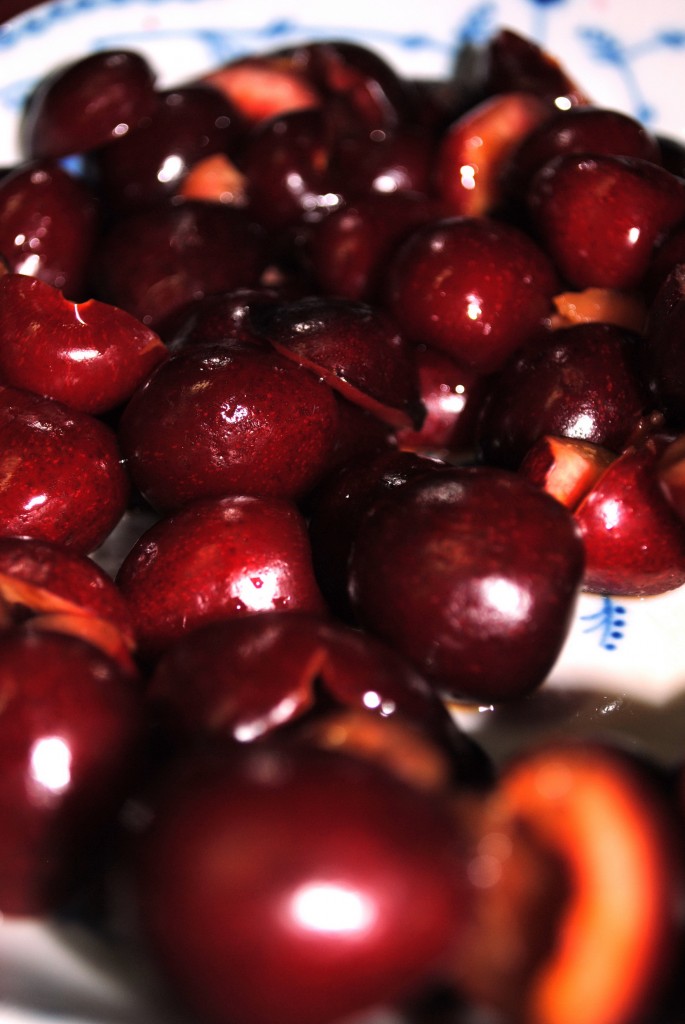 In Dubai you cannot bother yourself of baking, if you get fairly reasonable simple fruit or black forest cake from supermarket with 20 dirhams (4 €) only. I used to buy these cakes and garnish them with fresh fruits and berries. My husband loves Black Forest cake, but I was always thinking that cake is not really having cherries enough and not tasting chocolate enough for my liking. I promised to make one to die for, I needed to challenge myself.
Ever since I saw Australian Master Chef program episode in which they made Black Forest Cake, I have been waiting to get affordable cherries from Dubai's supermarkets. It seems that somewhere in the world it's cherry time right now. I found reasonable looking and priced cherries from Carrefour yesterday. Looking back at recipe from Master Chef Australia I decided to combine something from that and something from recipe by European Cuisines blog which claims that their recipe is more authentic.
The cake is named not directly after the Black Forest (Schwarzwald) mountain range in southwestern Germany but rather from the specialty liquor of that region, known as Schwarzwälder Kirsch(wasser) and distilled from tart cherries. I left alcoholic out from my recipe and cake ended up delicious like no other, njam.
At first it looked too much complicated to make, however I managed to simplify the making. I know if you take a look at the recipe I wrote, you will think no way, it's too many things going on there. But it is easy and simple.
Simply you need chocolate cake, whipped cream, cherry compote and some fresh or candied cherries and shaved chocolate. That's all. If you don't want to follow the recipe, just whip the cream, cut readymade cake to layers and fill with cream and cherry compote and decorate with whipped cream, cherries and chocolate.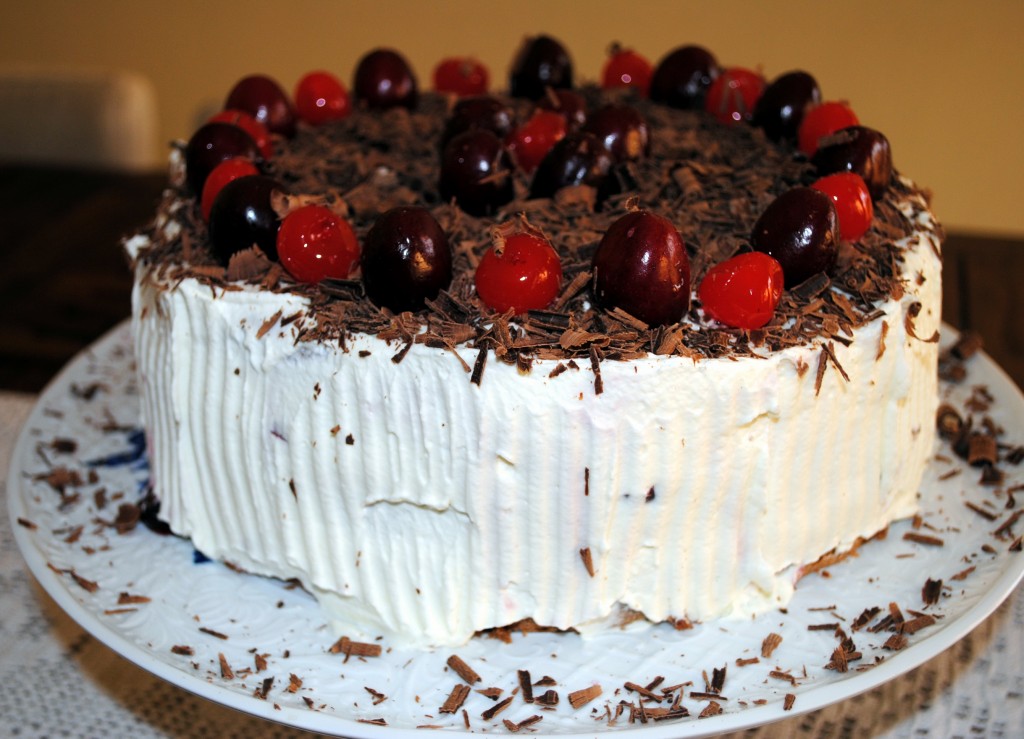 Black Forest Cherry Cake – Schwarzwälder Kirschtorte
Chocolate cake
6 large eggs
1 cup sugar
1 teaspoon vanilla extract or essence
80 grams chocolate, melted
1 cup (self rising) flour, sifted
2 tablespoons of cocoa powder
1 teaspoon cream of tartar (optional)
Beat eggs, sugar, and vanilla together until thick and fluffy, about 10 minutes. Alternately fold melted chocolate and flour with cream of tartar and cocoa powder into the egg mixture, ending with flour. Pour the batter into 24 cm cake pan that have been well greased and floured. Bake in a preheated 180-200 degree C oven for 30-45 minutes or until a cake tester inserted in the center comes out clean. Baking time depends on your oven; it might be less or more. Cool the cake completely and cut in 3 layers.
Filling:
Butter-cream
1 1/2 cups confectioners' sugar / icing sugar
1/3 cup unsalted butter
1 large egg yolk
(2 tablespoons strong Cherry juice or ½ teaspoon of Cherry food flavor)
To make the butter-cream filling, beat together sugar and butter until well blended. Add egg yolk; beat until light and fluffy, about 3 to 5 minutes. (Fold in Cherry juice).
Cherry Compote
1/2 cup caster sugar
900 g pitted fresh cherries, halved
Add the sugar to a non-stick saucepan and place over medium heat. Once the sugar begins to dissolve add the cherries and cook until their juices is reduced
Or use 1 or 2 cans of cherry filling from supermarket
For decorating
2 cups of whipping cream
2 heaped table spoon of icing sugar
1 tsp Vanilla (optional)
chocolate (semi bitter)
Fresh or candied cherries
Whip the cream until heaps starts forming add icing sugar and vanilla and whip until nice and smooth. To make chocolate curls from chocolate bar, shave (at room temperature) with a vegetable peeler.
CAKE ASSEMBLY: To assemble cake, cut in 3 layers, place 1 layer on a cake plate. Brush with cherry juice, spread with butter cream filling and lay ½ of the cherry compote evenly over the butter cream, spread some of the whipped cream. Place second layer on cake. Repeat. Place third layer on top. Brush with cherry juice. Cover the sides and top of the cake with whipped cream and decorate with candied or fresh cherries and shave over lots of chocolate.