In Finland Thursday is "pancake and pea soup" -day. While my friend remind me last week about pancake day, I got inspiration to try something called syrniki, from my neighbor country Russia, after Salme said that Russian pancakes beat the normal ones. The recipe asks for quark, but I have not found it in supermarkets here in Dubai. Instead I am using cottage cheese, the creamier the better.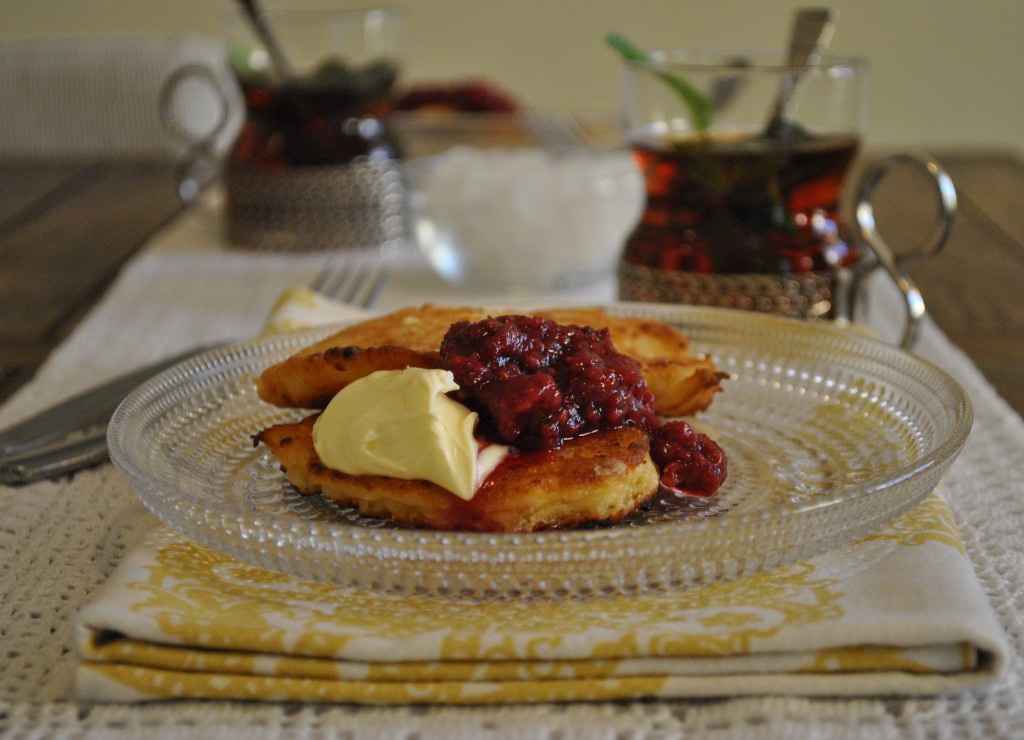 In Russian cuisine syrnikis (сы́рник[и]) are fried quark cheese pancakes eaten with sour cream, jam, honey, or apple sauce. They are also known as tvorozhniki (творо́жники) in Russia. It is a traditional Russian dessert or breakfast food and there are so many variations of it. I like this simple recipe for my perfect protein filled breakfast, it is healthy too. Use low fat cottage cheese and garnish with fresh berries.
Russian Syrniki recipe
Ingredients
1 cup cottage cheese
2 eggs, beaten
3 tablespoons sugar
2 tablespoons semolina flour (optional)
3 tablespoons all-purpose flour, plus extra for dusting
1/3 cup canola oil for frying
Directions
1. Mix together the cottage cheese, beaten eggs and sugar. Stir in semolina and all-purpose flour, and work into soft dough. If you do not have semolina, use 2 tbs of flour instead.
2. Heat the oil over medium heat until hot. Spoon pancake dough on to the pan and fry the syrniki in hot oil until golden brown on each side, 3 to 4 minutes per side.
Serve with dollop of cream, sour cream or crème fraiche and fruit jam or preserve or fresh fruits.
* * *
I could not resist of having them with my mom's homemade raspberry preserve and spoonful of organic crème fraiche. What more to ask, oh a nice cup of tea of course. Delish!
'How to' link