Become a #NBARSnation-alist. I did couple of months ago. I am active instagrammer and stumbled on a new UAE based healthy snacks bakery @NBARS_healthypleasure  Daily snacking in my mind, bought six-pack with 72 UAE dirhams. Nisha arranges free home delivery for two family packs, it's 20 chewy, crunchy, nutty, fruity, seedy, sweet and savory snack bars!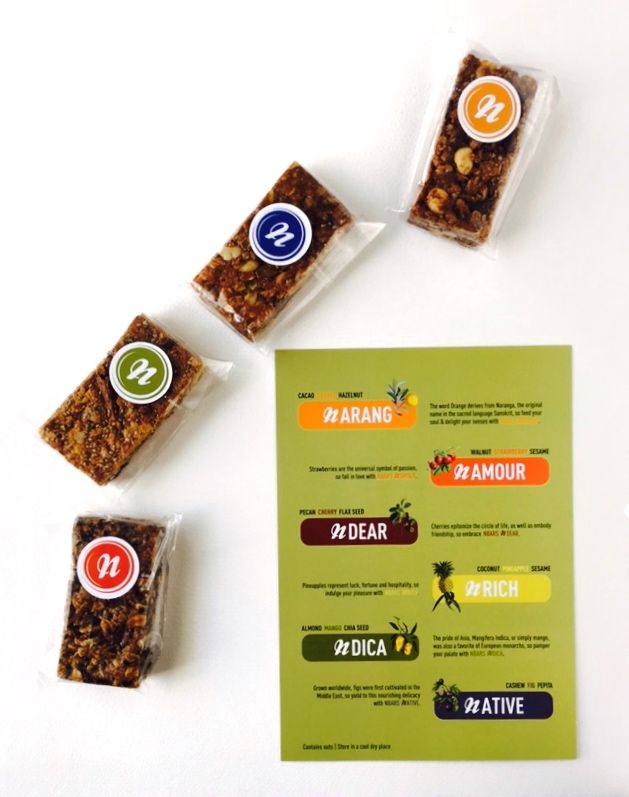 If you are for healthy snacks, you must try NBARS. Proudly made in the UAE.  NBARS is a line of snack bars aka 'healthy pleasures'!  dedicated to promoting smart snacking choices for Dubai residents. Crafted from a simple proprietary recipe, NBARS are made with the fewest, cleanest and simplest ingredients possible.
A truly perfectly balanced chewy, crunchy, nutty, fruity, seedy, sweet and savory snack bar.  Made for people who want to make smarter choices; health-conscious but still not willing to compromise on taste and pleasure.  Read more about what and where after the 5 minutes  session with foodpreneur Nisha Primlani-Pugnet the founder and Chief Flavor Officer of NBARS.
5 minutes with foodpreneur Nisha Primlani-Pugnet Chief Flavor Officer of NBARS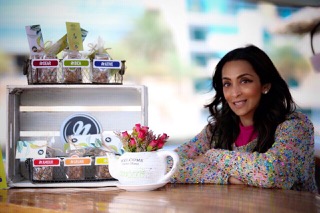 1. HOW DID YOUR JOURNEY BEGIN TO BECOMING A FOOD ENTREPRENEUR?
After 15 years climbing the corporate ladder in the US and the GCC, I decided to take a sabbatical. With time on my hands, I went back to the gym more frequently, and as a result I found myself feeling hungrier during the day. So I looked for a sustainable energy bar to eat pre & post training sessions. I looked everywhere: organic stores, health & nutrition stores, and grocery stores of every format. Unhappy with available offerings, either too sugary, no flavor, artificial taste or simply not good on the palate, I decided to look into it myself. I dived into the world of energy bars and took over our kitchen at home.
Within a few months, I had tried every possible combination but soon realized I needed my creations to bring me pleasure not only health benefits. So I sourced the best ingredients from all over the world and sprinkled in some fairy dust to create something truly flavorful. I handed out some samples to family and friends, and when they came back for more, I knew I had to pursue this new adventure. What first started as a need became fun, challenging and is now a passion and a mission!
2. WHO OR WHAT INSPIRES YOU?
Gratitude for the present moment! I feel extremely grateful for having a chance to work hard, to pursue my dream and to do so here in Dubai. And every moment I get to do this is a gift. This approach to life has been hugely self-empowering because in this state, I truly believe I can do anything I set my mind on.
3. YOUR DAY ON A PLATE?
Routines are boring to me so no two days look the same in my world!
Also, I look forward to snacks more than main meals. I tend to munch on the go and I'm always looking for portable snacks to keep me chugging through my day!
BREAKFAST: It's a rare morning when I get to have a leisurely coffee at home these days! I love breakfast bowls and smoothies but given my on the go lifestyle, an NBAR really suits my hustle. I grab a bar on my way out the door and it keeps me going till I have time to sit down for a meal, which can be as late as 6pm, especially the days when I bake.
SNACKS: Greek yogurt and raw honey, berries and nut butter, turkey & cheese roll-ups, tuna and celery sticks. My snacks are usually powered with protein and fiber so I only need a small portion. I'm partial to cappuccinos and golden or matcha lattes to go.
LUNCH: Lunch is usually an extension of snacking. When home, I'll fry up an egg in coconut oil, smother homemade guac on rye. In a restaurant, I order whatever I fancy and eat half the portion. The trick is to stop before you feel full!
DINNER: As I snack frequently through the day, dinner portion is not massive but this is the most anticipated meal of the day as I get to share it with my husband. We both enjoy cooking and take turns. I like to create healthier versions of classic indulgent desserts though in all cases, portion control is what's important.
4: FAVOURITE WAY TO GET MOVING?
I looove HIIT (high intensity interval training). It suits my personality and I get the best results with repetitive short burst/short break circuits.
5. THREE THINGS YOU CAN'T LIVE WITHOUT
Regular contact with my husband and family, my cat, my cellphone with a huge-ass 3G limit.
6. YOUR SECRET VICE
I don't really like to sleep. I'd much rather be doing anything else. More so after launching the business, I've got a million ideas and want to work on them immediately. It got so bad that I studied tactics to fall to sleep because counting sheep didn't work for me!
7. TOP SONG ON YOUR PLAYLIST OR BOOK YOU ARE READING
I haven't found time to read in a while though what I'm obsessing over right now is any and all content by Gary Vanyerchuck.
8. YOUR MANTRA
"Don't be a lady. Be bold. Be brave. Be inquisitive. Take chances. Have fun. Ask questions. Demand answers. Speak up. Stand up. Breathe deeply. Be smart. Be adventurous. Be a trailblazer. Smile only when you feel like. Break the rules. Interrupt. Be opinionated. Be passionate. Be disliked for what you believe in. Don't apologize unless you mean it. Be feared. Be a leader. Be a lioness. Be a wildly untamed woman." By Margaret Rose sums up how I live.
9. YOUR FAVOURITE RECIPE
NBARS, of course!
A favorite recipe with Bilberry powder that I made recently…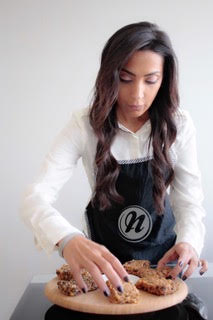 About NBARS:
Consumption Occasions:
NBARS are versatile:
(1) ideal for breakfast on the go
(2) as a standalone snack between meals
(3) pre exercise
(4) enjoy NBARS as is
(5) or as your favorite yogurt or smoothie bowl topping
What's in NBARS?
Fiber from organic rolled oats, nuts & seeds
Good fats from nuts and seeds
Natural sweetness from dates & brown rice syrup
Clean savory flavor from pink Himalayan salt
Pleasure & indulgence from bits of 56% dark chocolate
Each 40g NBAR is approximately 150-155 calories of healthy pleasure
Total Fat 7.5g (Saturated Fat 0.9g and Trans Fat 0g)
Cholesterol 0g
Sodium 18g
Total Carb 19g (Sugars 7.5g)
Protein 4.5g
What's not in NBARS?
No caffeine
No added/refined sugar*
No animal products
No added gluten**
No alcohol
No preservatives
No peanuts
*Aside from the bits of high-quality dark chocolate
**If you're simply trying to avoid gluten, NBARS are perfect for you as none of our bars are made with gluten-containing ingredients. If, however, if you've been diagnosed with Celiac disease, we recommend you exercise caution and only consume products with GF certification.
What's the shelf life & storage condition of NBARS?
NBARS shelf life is 2 months. We ask for NBARS to be stored in a cool, clean and dry place away from sunlight.

You find Nbars snacks at OConcept cafe and Stumping Grounds Cafe in Jumeirah.
For other point of sales contact Nisha at NBARS.ae