In Finland this dish is called Sailors Steak; it's said to be old favorite in sailorman galley. Browned meat, non alcoholic malt drink or beer, potatoes and onion is cooked in casserole in oven, or on top of the stove. I make it always in oven, that's the beauty of it, Sailors beef steak cooks without attention. Preparation takes 15 minutes and cooking by itself 2 hours. This is fool proof recipe with the unique flavor.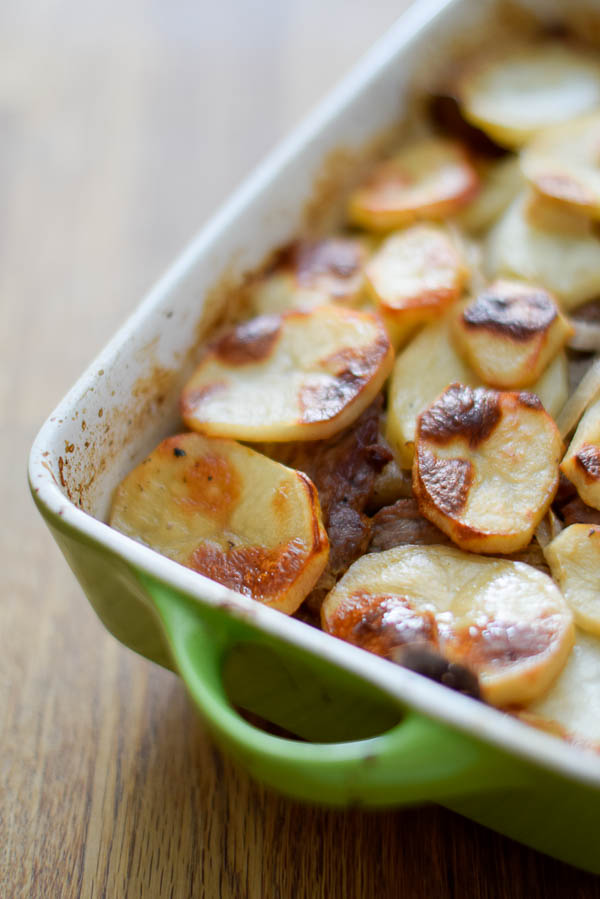 SAILORS BEEFSTEAK RECIPE: (serves 4)
INGREDIENTS:
600 g organic beef tenderloin (or any meat cuts for your liking)
8 potatoes (abt. 1 kg)
4 small onions sliced (two sautéed and two raw)
25 g butter or cooking oil
Salt and pepper
1 sprig of thyme
2 bay leaves
1 1/2 cups of beer or malt drink
For serving: pickled cucumber or beetroot and sprinkle of chopped fresh parsley
METHOD:
Pre-heat the oven to 180 °C
Cut the meat into slices across the grain. If you use other cuts than tenderloin, pound the meat cuts with a mallet to tenderize.
Brown the meat in a hot skillet quickly on both sides using only half the butter or oil. Remove to a plate.
Lower the heat and sauté 2 of sliced onions in skillet slowly in the rest of the butter until they are soft and golden.
Peel and slice the potatoes as thinly as possible.
In a 1liter (1 quart) casserole dish, layer the potatoes with the browned meat and onions, sprinkling each meat layer with dash of the salt and pepper. I start with a layer of potatoes, meat and sautéed and raw onions. Repeat and make the last layer one of potatoes.
Rinse the skillet with the beer. Pour into the casserole. Add the bay leaves.
Cover with lid. Bake for 2 hours in 180 °C oven or until the meat is tender and potatoes are soft.
Sprinkle with chopped fresh parsley. Sailors Steak is traditionally served with pickled beetroots or cucumbers.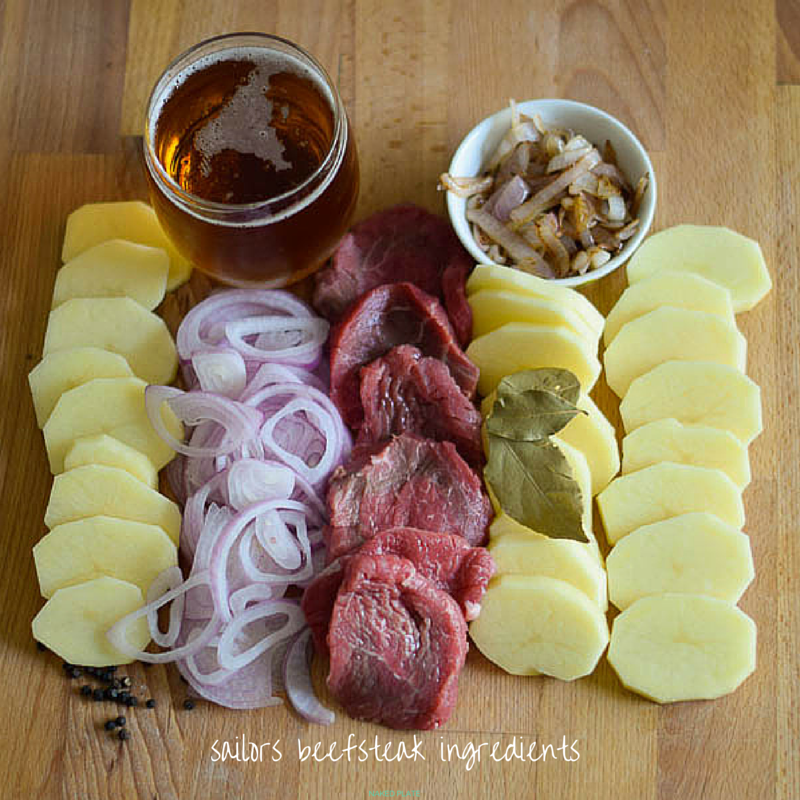 I have used OBE Organic beef tenderloin which I bought as a part of Ramadan collaboration with the good folks at @OBEOrganicHalal, an organic beef company from the Outback of Australia that's available right here in the UAE. This Sailors Beefsteak – Finnish recipe (in Finnish 'Merimiespihvi') is one of my favorite because of the effortless cooking, practically it takes 15 minutes to prepare, plus cooking time in oven without no stress and standing by stove. I did not want to share this as part of Ramadan recipes because it has beer, nevertheless it's non-alcoholic malt drink available here in UAE in every supermarket, but it can be easily associated to it's boozy version.
DID YOU KNOW: OBE Organic's beef is certified organic, 100% grass-fed and halal? Find @obeorganichalal beef in the meat section at select Carrefour stores in Dubai and Abu Dhabi. And while you're at it, "like" their page here on Facebook: www.facebook.com/obeorganichalal.