Raw Vegan Dessert has two words which could be a red flag for regular omnivore; raw and vegan. But not this raw vegan dessert made for non-vegans. It's chocolate mousse, raw granola and caramel sauce. If you would like to add more veggies and raw food to your diet, easiest is to start with scrumptious desserts. I got chance to join  mini  workshop on raw vegan cooking  (… erhm we did not cook anything) and photography  organized by Karin from The Official Kalista at Ripe Fresh Market in Dubai.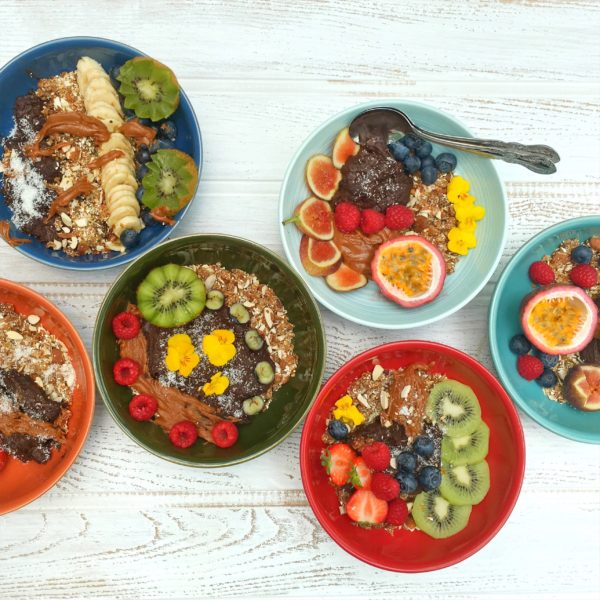 Who knew that spinach sinks to chocolate mousse like no other and it tastes good as well. Is there anyone out  there who does not like chocolate?! Give this dessert a try,  I am sharing Karin's fool proof easy recipe and it's 100% plant based.  I declare it is The Best Raw Vegan Dessert for Non-vegan…ever.
Two other key ingredients I did not even know exist are sprouted oats and lucuma.  I swear lucumas never travelled as far as to Finland so I really had cap in my basic fruit knowledge. Sprouted oats do not require cooking and is healthy raw option for regular oats. Lucuma mixed with date syrup makes instant caramel sauce with added healthy functional aspect. Peruvian and Ecuadorian lucuma loved by the Incas is a super nutritious fruit that contains beta carotene, iron, zinc, vitamin B3, calcium, and protein. Good for skin and digestion.
Raw Vegan Salted Caramel Chocolate Dessert Recipe 
(1 serving)
Granola:
1/3 cups of sprouted granola (regular oats are good if not making vegan recipe)
1/3  cups pitted dates
1/3 cups almonds
1 tsp cinnamon
1/2 tsp nutmeg
Add all ingredients to food processor and blend until you get granola=like consistency
Chocolate 'mousse'
1 cup spinach (as much as you can squeeze to one cup)
1/2 avocado
1/3 cups raw cacao powder
1/2 tsp vanilla powder
3 tbsp date sugar (yes there is sugar made from dates, look for organic food stores)
1 sachet (1 tsp) of Berryfect bilberry powder (Finnish Arctic super food from Ripe Fresh store or Bilberry.ae )
1 tbsp coconut oil
pinch of Himalayan salt
Add all ingredient to a processor and blend until you get creamy consistency. Fold with spoon to check that all spinach is well blended.
Caramel sauce
2 tbsp lucuma powder
2 tbsp date syrup
Whisk together in a bowl
Now you have three key components raw granola, choco mousse and caramel sauce. Layer them in nice dessert bowls or glasses and decorate with fresh seasonal fruits and berries as much as you like. Chocolate mousse is very rich and I find it better with more fresh fruits to add bite and tangy flavors to complement chocolate and maple like taste of lucuma based caramel sauce.
In below image the draft styling by Karin from The Official Kalista