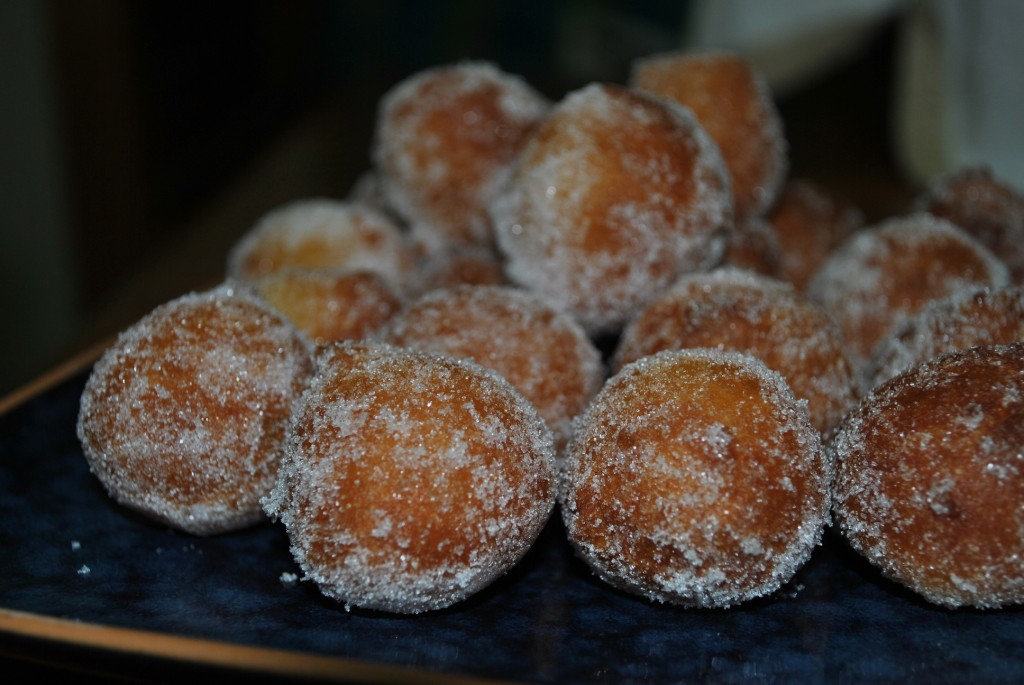 No more store bought donuts for me.  I have just lately discovered one very simple and delicious Egyptian-Arabian sweet which is easy to prepare and ready in no time, namely Zalabya.
There is a  dough mixtures  available in every supermarket here in Middle-East, but that is not as good as the one made from scratch.  I want to share this recipe because it's a basic and anyone can do it.
Zalabya is a mix of flour (دقيق), water (ماء) , yogurt (الزّباديّ) and instant yeast (خميرة).  There is another name for it, in Egypt it is called  "Lokmet el Ady" or  Lokmet El Kady (لقمه القاضى) which means the bread of the judge!
Of course it is a metaphorical meaning to denote that judges were rich people who didn't eat the commoners' bread!
In the Arabian Gulf they call it Awamat (عوامات).
Zalabya
3/4 cup of plain yogurt
1 egg
2 cups  flours
1/2 cup water
tip of teaspoon  salt and sugar
(1 teaspoon vanilla,  optional)
tip of teaspoon  yeast
Sugar syrup (maple or date),  caster sugar or powder sugar for decorating
Oil for frying
Mix yogurt and egg well together. Add rest of the ingredients. Make sure that yoghurt and water are lukewarm so that yeast will work. Let rest covered about 1 hour. Dough is very smooth and soft. It does not rise much or come double. Heat the oil in pan or thick bottom pot.  Dip your working hand into cold water and take some dough into your fist and squeeze small plum size balls into hot oil. Let boil about minute, turn and boils another minute or until golden brown.
Lift from oil onto kitchen paper towel to absorb excess oil, roll in sugar of your liking or but zalabyas in bowl and pour couple of table spoons of date syrup and swirl until all covered.
Sahtain!  Ready to enjoy, now did you manage to save some for later…..I bet not, in our household, plates are naked in no time,  we cannot stop eating.