Who does not need every now and then "skinny weeks and weekend feasts"? Gizzi Erskine totally saved my Taste of Dubai experience this year. I visited Taste of Dubai 2013 food festival on Saturday 16th. It was little bit disappointing to find out that some of the high end restaurants did same menu as last year. I then chose to try only new restaurants in ToD-festival. Except my loyal unconditional love for Ronda Locatelli, where I tasted "Burrata al cucchiaio zucca marinata e timo", burrata cheese with marinated pumpkin and thyme. Simple and tasty, can be recreated at home.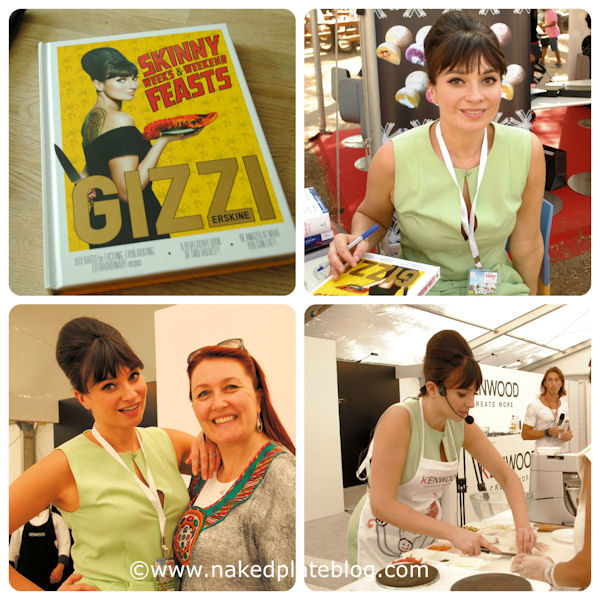 Back to Gizzi, I sat in Kenwood cooking school and watched her teaching how to make sea bass cheviche. She was so energetic and I felt she is down to earth girl like myself. After the cooking session I had chance to meet her and get my new cooking pal, her cookbook, Skinny Weeks & Weekend Feasts signed.
When flipping the book through, I picked Crispy Tuna Rice recipe and complitely hacked it. Sorry Gizzi, but I had to, my next door supermarket does not stock all the Japanese ingredient, so I went and made my Nordic version of her Crispy Tuna Rice without tuna. I tuned quantities and ingredients to what I had easily on hand.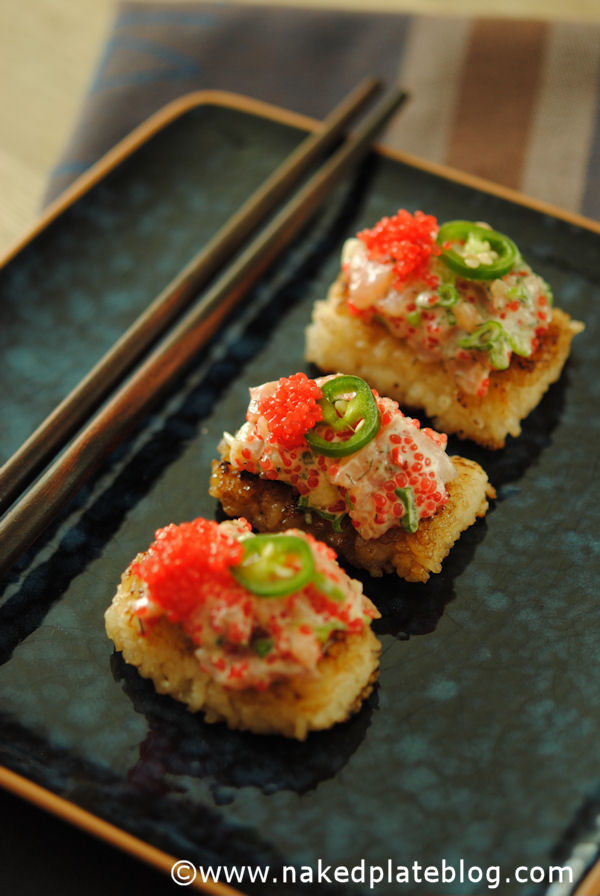 Crispy Salmon Rice recipe
Ingredients
100 gr of gravlax (cured salmon) (original recipe calls for sashimi fresh tuna loin)
2 tablespoon Abba Seaweed roe (original recipe calls for masago roe)
1/4 tsp sesame oil
1 tsp chilli puree (original recipe calls for Sriracha)
2 stalks of green onion, finely chopped
1-2 tbs normal mayonnaise with few drops of rice vinegar
(original recipe calls for Japanese Kewpie mayo)
for crispy rice
3/4 cup of sushi rice (makes ax. 14 small cakes)
1 1/2 cups of water
1/2 tsp salt (or sea salt)
1 tsp sugar (original recipe calls for golden caster sugar)
2 tsp rice vinegar
4 tbs butter for frying
1 green pepper thinly sliced (original recipe calls for jalopeno pepper)
Method
Hand-chop the cured wild salmon, we call it gravlax, as finely as you can.
In mixing bowl, mix all gravlax ingredients together. Cover and let stand in fridge 1 hour to allow flavours to mix.
Cook the rice according the instruction on bag. Cook the sugar, rice vinegar and salt
until sugar dissolves and stir into cooked rice. Rice will dry more when it cools.
Pack large tablespoon of cooked cooled rice into small block shapes. Flatten each with
oiled hands into tight packed blocks. Heat the butter in frying pan and fry each block on all sides until crisp and golden brown.
Place dollop of gravlax sashimi mix on top of the crispy rice blocks and decorate with slice of
slightly hot green pepper and seaweed caviar.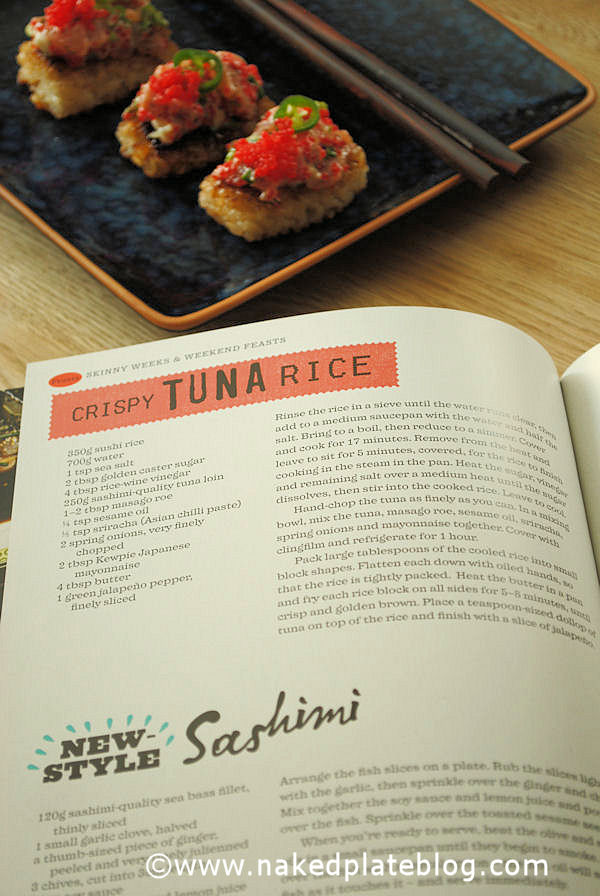 Does Dolphin Safe" Tuna ring any bells? I don't want to spoil your tuna cravings, but at least you should read about sustainable "Dolphin Safe" Tuna. You can make a good choice.
I am not fresh tuna eater, but consume every now and then canned tuna. Sustainable fishing principals apply to both options, honestly I never thought about dolphins when opening tuna tins. I was glad to notice that my favorite label from Sweden, Abba Seafood, is listed on sustainable distributor list….phew!
Check yours here: Dolphin safe tuna
Thank you Gizzi Erskine for the inspiration and fresh exciting skinny recipes. Welcome to Dubai again. We have many foodie events here and I bet you got loads of new fans from hot and fancy Dubai.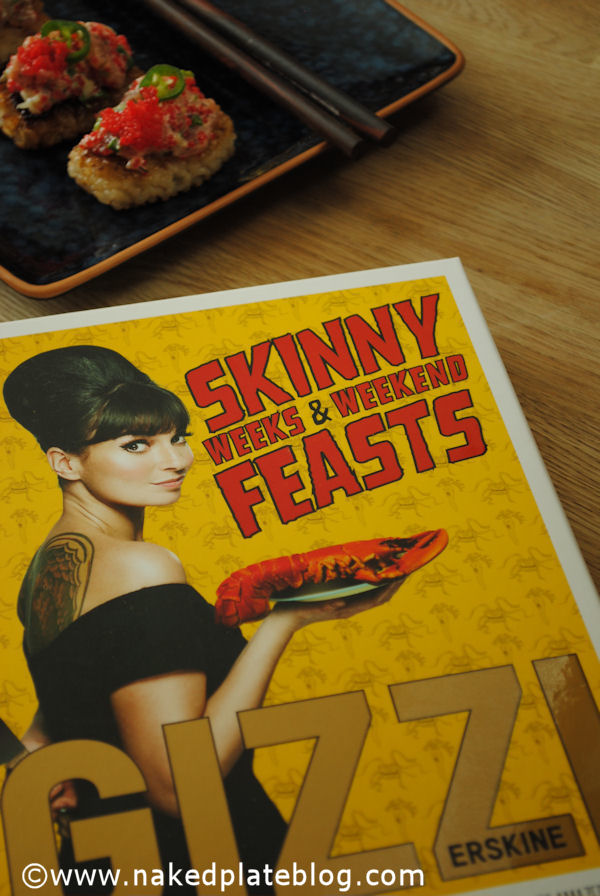 ***
From Dubai with Love!
***

Read about Taste of Dubai Food Festival
MyCustardPie – Taste of Dubai 2013