What's with the cranberries! I have fell in love with them on this season. I promise this is the last cake or bake with cranberries, well ….almost, I had something in my mind, I'd love to share later. This is the season after all.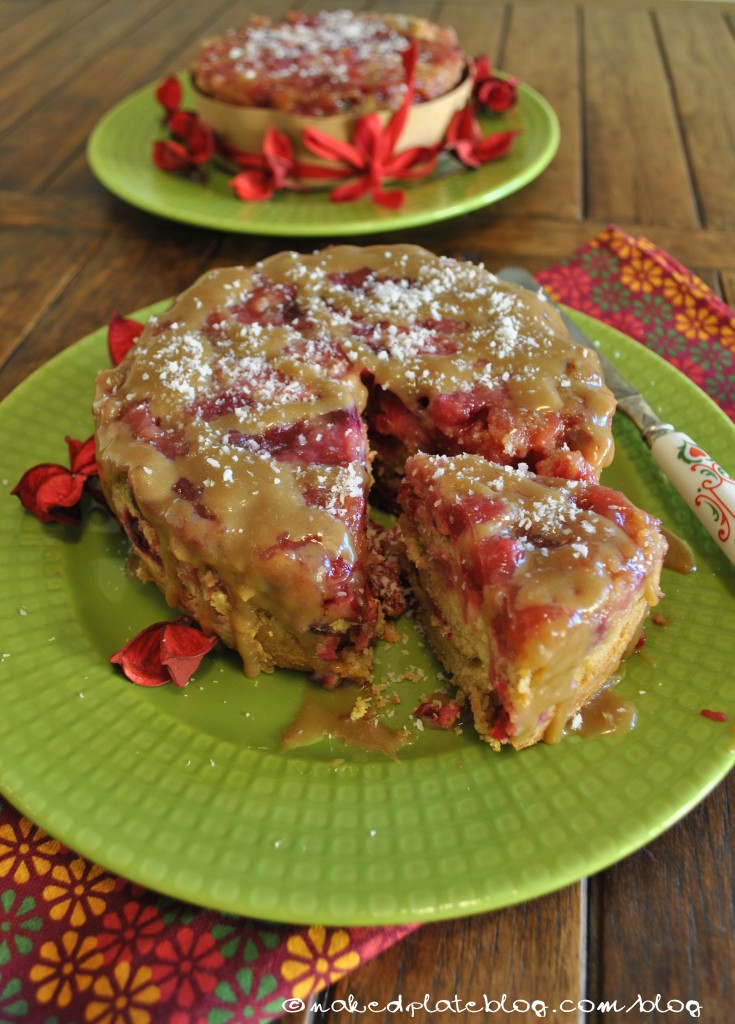 Everyone knows Pineapple upside down cake, but have you ever tried to make cake upside down with cranberries.
I like the flavor of brown sugar with cranberries, they match together so well with hint of cinnamon, which I left out this time, because my dear cake-taster doesn't like cinnamon. I left out butter from topping and drizzled the cake with toffee sauce and few flakes of coconut.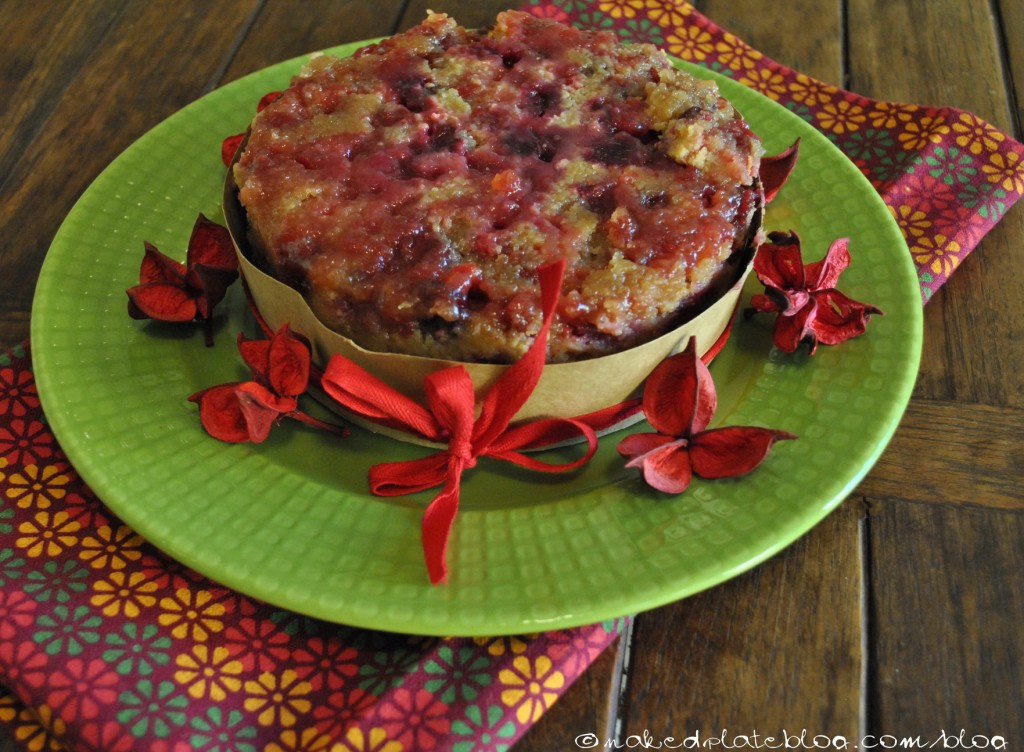 Cranberry Upside Down Cake recipe

Ingredients
Cake:
1 1/2 cups flour
1/2 teaspoon baking soda
1/2 teaspoon salt
120 g butter, softened
1/2 cups granulated sugar
1/2 cup light brown sugar, packed
2 eggs
3/4 cup sour cream
1 teaspoon vanilla sugar
Topping:
4 cups cranberries, rinsed, get rid of bad cranberries, and at room temperature (just a bit less than a 350 g bag of cranberries).
50 g butter
1/2 cups sugar
1 teaspoon cinnamon (optional)
Preparation method
1. Sift together flour, baking soda, and salt. Set aside.
2. Beat butter and sugars on medium speed until smooth and fluffy, about 1 minute.
a. Add eggs, one at a time, mixing well after each addition.
b. On low speed add half the flour mixture then mix to combine.
c. Add sour cream and vanilla. Mix to combine.
d. Add remaining flour mixture and mix until smooth.
3. Butter a 18 cm (9″) cake pan and sprinkle evenly ½ cups sugar mixed
with one teaspoon cinnamon on bottom, add cranberries and bits of butter here and there.
4. Spread batter evenly over the cranberries in the cake pan.
5. Bake at 180 – 200°C until golden brown, edges begin to pull away from the side of the pan, and toothpick inserted in the center comes out clean, about 45 to 50 minutes.
Cool on rack for 10 minutes. Run knife around edge to loosen cake. Invert onto plate.
Note: When you pull out cake of the oven to test, it might appear liquid. The cake is like moving on top of the layer of cranberries. The large amount of butter and shifting cranberries made an almost liquid layer on the bottom of the cake. It will come together when cake cools, the cake is at best on next day when it's settled.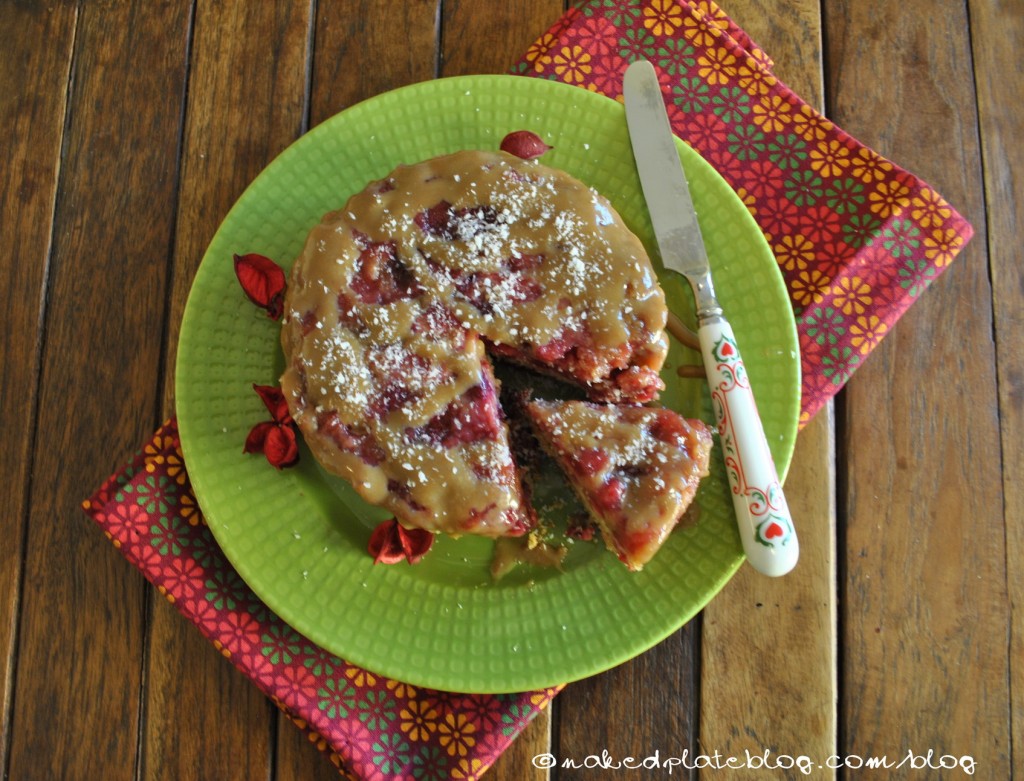 Toffee sauce
Ingredients
120g light brown sugar
120g butter
100ml cream or full cream milk
Preparation method
1. Melt the butter and sugar in a saucepan over a low heat until the sugar is dissolved but not burned.
2. Stir in the cream or milk and heat gently until bubbling, stirring continually until thickened (about 10 minutes). Remove from heat and serve warm.
***
Surprise your loved ones, friends and neigbors with lovely home made gift. I did two cakes with this recipe and used two 15 cm cake tins. Wishing you very happy festive season!
             ***