When I was a kid we spend every summer holidays in my grandma's farmhouse in the middle of Finland. Every year we followed my parents with my sister and brother to the forest beside the farm. It was not just another picnic day. We were picking up blueberries, cloudberries, raspberries and mushrooms. Best part of the harvest trip was my mom's homemade snacks we got to eat on the trip. We had hardly arrived to those blueberry tussocks when we started to ask if we are already there and can we eat already.
Best bake made of blueberries is traditional Finnish blueberry pie made on mildly-sweet dessert bread dough called pulla in Finnish. Making pulla is challenge for me I have not yet succeeded.
Instead I have another easy recipe for blueberries Blueberry Upside down cake. Serve with whipped cream or vanilla ice cream. Now let's get blue lips….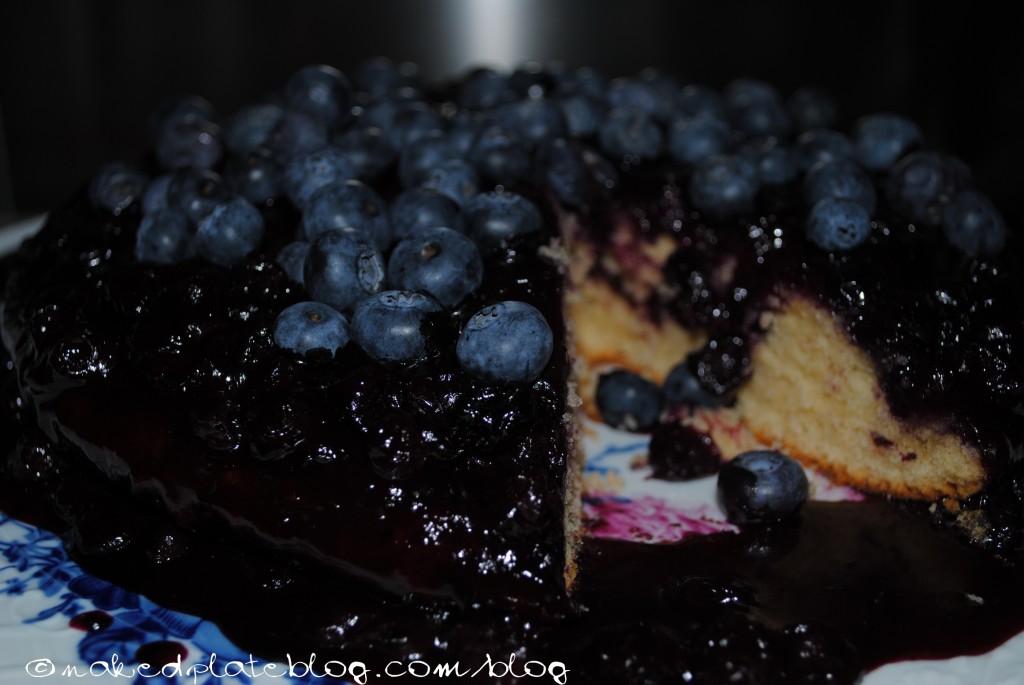 Recipe
Blueberry Upside down Cake
Topping:
3 cups fresh blueberries (or frozen, thawed & drained)
1 1/2 tablespoon lemon juice
3/4 cups sugar
1 1/2 tablespoons corn starch
2-3 tablespoons butter
Spread berries evenly in bottom of greased springform or cake pan. Sprinkle with lemon juice. Combine sugar and corn starch and pour over berries. Dot with butter.
Cake:
1 1/2 cups flour
1/2 teaspoon baking soda
1/2 teaspoon salt
6 tablespoons butter, softened
1/2 cups granulated sugar
1/2 cup light brown sugar
2 eggs
3/4 cup sour cream or yoghurt
1 teaspoon vanilla
1. Sift together flour, baking soda, and salt. Set aside.
2. Beat butter and sugars on medium speed until smooth and fluffy, about 1 minute. Add eggs, 1 at a time, mixing well after each addition. On low speed add half the flour mixture then mix to combine. Add sour cream or yoghurt and vanilla. Mix to combine. Add remaining flour mixture and mix until smooth. Spread batter evenly over the blueberries in the springform or cake pan.
3. Bake at 180-200°C (350°F) until golden brown, edges begin to pull away from the side of the pan, and a toothpick inserted in the center comes out clean, about 45 to 50 minutes. Cool on rack for 10 minutes. Run knife around edge to loosen cake. Invert onto plate. Invert again onto serving plate. If any blueberries remain in the pan just put them back on top of the cake. Cut into wedges and serve.
Note: At first when you pull the cake out of the oven to test, it looks that the cake is still very liquid. On second time you test and it still appears to be just as liquid, it's because the cake is moving on top of the layer of blueberries. The large amount of butter and shifting blueberries makes an almost liquid layer on the bottom of the cake. It's normal and it will set after cooling.