It's obvious if you have been in Dubai or any other Arab Emirate like Ras Al Khaimah, you most definitely have eaten creations of Lebanese cuisine. At first when we arrive, not familiar with region, we just categorize all Middle Eastern cuisines to one class: Arabic food. Soon we start to realize differences between Levant cuisines: Syrian, Lebanese, Palestinian, Jordanian, Turkish and Iraqi followed by  more Arabic foods but from North Africa: Egyptian and Moroccan moving to Persian kitchen and many more.
I am shamed to admit I haven't explored six other Emirates in past 13 years as much as I should have, so I have recently made promise to myself to explore all of the Emirates. Once I got invitation to try Yansoon Restaurant Iftar menu in Ras Al Khaimah. There we go, that was one good reason to cross the invisible borders of RAK emirates. And not just pass by  when going to Oman.
For me it's somewhat hard to decide where to eat when going to new places, so we often end up to most obvious ones, like those in 5 star hotels.  But not this time. Who knew how beautiful creek or corniche area there is in RAK.  Keep reading I share some snap shots for proof.
Today I am in kitchen with Lebanese Chef Leba Joseph Makhoul of Yansoon restaurant in Ras Al Khaimah.  I asked few questions  while we made some delicious mana'esh with guidance of chef Leba. I must say that my cheese nabulsi and zaatar man'ousheh was pretty good and I was able to manouver the baker's peel, that wooden shovel looking thing you need to put your bread in stone oven.
TAKE FIVE WITH CHEF LEBA MAKHOUL OF YANSOON RESTAURANT
HOW DID YOU BECAME A CHEF?
Firstly, I love to eat.  When I attended the Ecole d'Hoteliere in Beirut, I found myself enormously enjoying my training experience, which only deepened my passion for food.  I also was in love with the image of the chef wearing whites and wielding a knife!
WHAT IS YOUR ALL TIME FAVORITE RECIPE OR FOOD?
Sushi, hands down.
WE HAVE PLENTY OF LEVANTINE AND LEBANESE RESTAURANTS IN UAE. HOW TO DEFINE GOOD LEBANESE CUISINE?
When the restaurant gets the cold mezza (the hummus, vine leaves or tabbouleh) right, they're serving good Lebanese cuisine.
WHEN NOT IN YANSOON KITCHEN WHAT DO YOU EAT FOR IFTAR OR SUHOOR?
I would still go for an Arabic buffet in any good restaurant.
WHAT FOOD IS ALWAYS IN YOUR FRIDGE?
Steak
WHAT'S YOUR COMFORT FOOD?
Japanese
BEST TIP FOR NOVICE HOME COOK WHO WANTS TO PREPARE LEBANESE STYLE HUMMUS OR TABBOULEH?
Buy the best quality ingredients you can afford.  For hummus, use dried chickpeas and soak it yourself.  Don't use tinned chickpeas.  Also get the best tahina.  For the perfect tabbouleh, take time in finely chopping the herbs.
Thank you Chef!
LEBANESE FOOD
Here's top chart of Lebanese food from Yansoon's menu all around year, except special Ramadan drinks.  At Ramadan Yansoon has classic Lebanese buffet 85 AED per person.
Cold Mezza
Hummus
Hummus Beiruty
Moutabal
Yansoon Moutabal
Vine Leaves
Moussaka (chilled eggplant and tomato dish)
Salad
Fattoush
Tabbouleh
Hot Mezza
Lahem Bil Banadoura (beef with tomato)
Potato Harra (spiced potato)
Rakakat (cheese rolls)
Fatayer (spinach pastry)
Mixed Sambousek (beef and cheese)
Main Course
Fish Sayadieh
Dessert
Rice Pudding
Kunafa
Drink
Jallab (Ramadan drink made from grape molasses)
PHOTOS FROM MY PHONE
Look at the beautiful views from rooftop terrace of Yansoon Restaurant.  It's really nicely decorated and located restaurant with great Lebanese food made under Lebanese chef ruling.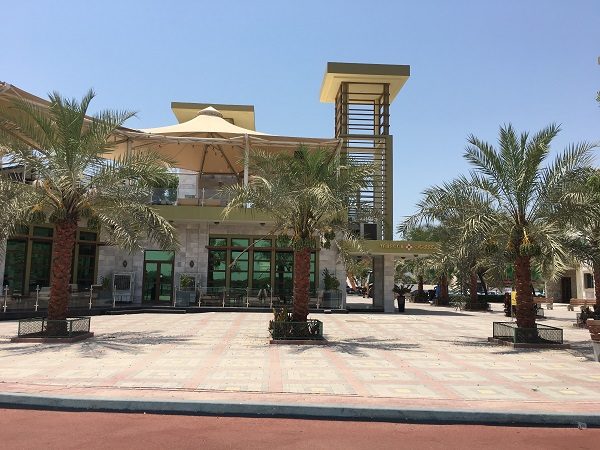 Yansoon Restaurant building on a hot summer day. Ain't Lebanese place if there's no shisha or rather nargile. I am not smoker and by no mean do not want to promote that habit but it's very Lebanese and Egyptian cafe cultural thing, in Yansoon they say yallah neshrab argileh and go to rooftop. Not in Ramadan tough. This antique water pipe is decoration only.
Here's  yours truly Naked Plate blog editor with Chef Leba
Read more about Yansoon and Ras Al Khaimah HERE
Stamp of approval!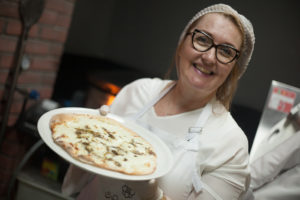 Yep, it's me, with that beautifying hair net and self baked mana'esh aka Lebanese bread on my hand. (Photo credits to Anthony Hansen)
It's still few days of Ramadan to have nice iftar or suhoor at Yansoon.