It all started when my sous chef Malihah left back to her home Indonesia. Yes I had sous chef, who I taught to cook and bake my favorite food. She was crucial part of my daily housekeeping routines. That's the luxury of living in United Arab Emirates, we have help at house and we are not shamed about it. In my country Finland, it was perceived a failure of woman to seek for domestic help. Being working woman with incredibly tight schedule to do daily chores is challenge. Big struggle for me at least. Who doesn't want to eat and cook amazing meals, I do, but have no time for thinking of what to cook and shopping.
Malihah, my sous chef, she sat with me to plan the meals, she proposed and remind me of great recipes I've taught her to cook and then we made shopping list. She did all the food shopping, carried the groceries to our kitchen, placed them in pantry and fridge.  Before cooking she washed, cut, sliced and chopped and executed our meal plan. We were eating well, home cooked economic meals.  Now that she was gone, it took me a while to resume to my daily routines with my household and start cooking. It was extremely difficult for me, after the day at office my brain was totally blank, no band width to think of meals, no energy to go to shopping. The suppose best part, actual cooking felt boring and unpleasant. It was not one of those moments; Oh I love cooking! I hated it. Only at weekends, when there was no rush, I was capable to cook and actually enjoy it. I ordered take-outs few too many times and gained weight at same time. That had to stop.
Eating well made easy by Hello Chef!
I did some research and found out Olivia from Hello Chef!. We met her couple of years ago at Taste of Dubai, but it was not for me at that time, remember I had luxury of sous chef. Later on I got more insight of Hello Chef! at Hacker Kitchen event where Olivia made cooking demo and showed how fast and easy it is actually to cook instead of ordering in. I knew Olivia the foodpreneur has what I needed to ignite cooking at my kitchen. Time to browse in Hello Chef! 
Keep on reading you'll find one of my favorite recipes from Olivia, try it you'll see how easy home cooking is. I have code for you to get your trial box with 50 AED less. I particularly asked Olivia to give me something to share with you to get you back in cooking.
Get back hours and save money weekly
To date I have saved 4 hours and hundreds of UAE dirhams weekly. I don't do the grocery shopping anymore, that gives me back 4 hours weekly for myself, well appreciated me-time.
I am those folks who go shopping and buy loads of stuff out from planned shopping list. Who am I kidding, I do not make shopping lists, I just went in market and looked for seasonal food or more likely what I felt like cooking on that day. At supermarket, I want to try new products, buy some 'healthy' snacks and end up having hundreds of dirhams spend unnecessary. Then realize at home that  I did not buy actually food food, to prepare proper meal.  That's gone now, for 5 weeks, 6th starting I have now gotten box filled with easy recipes for delicious dinner ideas with the fresh ingredients from Hello Chef!. All I need to do is to receive the box and place ready sorted daily ziplock bags to fridge.  All recipes will take 30 minutes to prepare and cook. Yep and bonus you find your self enjoying the cooking part a lot. That feeling when you serve dinner you actually made, even if you are single, or should I say particularly for singles or busy couples, this is rewarding.
Olivia from Hello Chef! says inside everyone is an incredible cook. Someone that can cook an amazing meal any night of the week.
Now that I am back to cooking I feel good about myself all the time.  I still have three days to choose, if I eat out or have a cheat day and order in. Or just two days detox,  four days Hello Chef! meal plan and one cheat day. Erhm either way… well deserved. I am loving this.
I am now waiting Sundays to receive my box, feels like I am getting a gift, I never check the menu in advance, it's nice to have surprise menu. My choice is low carb box for two. Very good for singles as well, you may have the other meal for lunch next day.  Other options are vegetarian and family boxes, I have tried them all, sure you find your fave after trial. Loving the flexibility of Hello Chef! meal plan, once you register, It's easy to manage your subscription and change the plan or skip the week, or pause subscription.
Vietnamese Chicken Salad recipe
Check the example recipe from HelloChef!, link to full recipe follows below. Can there be easier or faster chicken salad recipe, 20 minutes and you have bowl of crunchy, juicy vibrant chicken salad with awesome salsa, the dressing makes big difference. What I love about these boxes is, that I get exactly the amount of needed ingredients. There's no waste.  When shopping for cooking, we usually needed to buy cans, jars and bottles of ingredients which you might or might not use later on. I had to clear my pantry quite often from expired condiments before. Not anymore.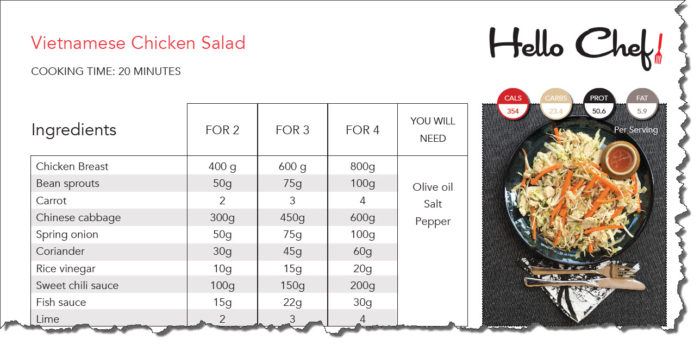 Click to open Vietnamese Chicken Salad recipe pdf
I have bought vegetarian box for two for 280 AED per week, one meal makes 35 AED per person. On 3rd week we changed to low carb box for two for 330 AED. It's been my favorite. The box has 1 fish, 1 beef and 2 chicken recipes and ingredients. Price of one meal makes 41.25 AED. No wasted food and hours saved every week for something else than shopping and planning of meals. What would you do with extra 4 hours weekly?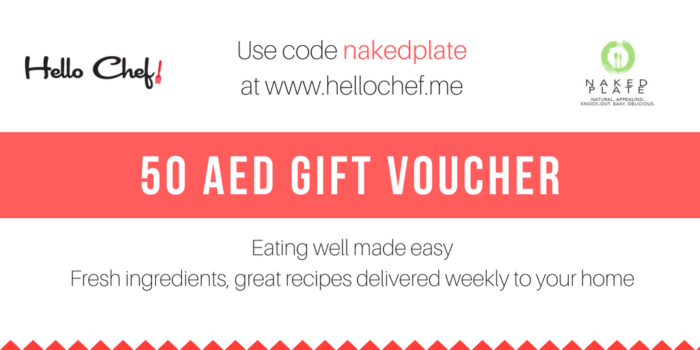 Here's coupon code for your trial week, use at www.hellochef.me insert nakedplate at check out.
Don't go quite yet! Read about Foodpreneur Olivia Manner from Hello Chef! here.
Copyright secured by Digiprove © 2017