Was it the breathtaking sunrise at pristine quiet desert, wild animals and briefing of falconry which made the early morning wake up worthwhile. Or rather 'Give a Ghaf Tree' tree planting followed by the wholesome back to basics breakfast on desert.  Each and all were very good reasons to experience Unseen Trails of Dubai – Dubai Desert Conservation Reserve safari. I ditched the city life and fancy weekend brunch to trip to the true desert. No matter weather you are living in UAE or planning your vacation here, if there is one thing to do in Dubai in your bucket list, it's this must do safari experience. Take this tip from long stayed resident.  How many of us even knows, there is Dubai Desert Conservation Reserve in Margham desert just 40 minutes drive off the urban Dubai. I did not.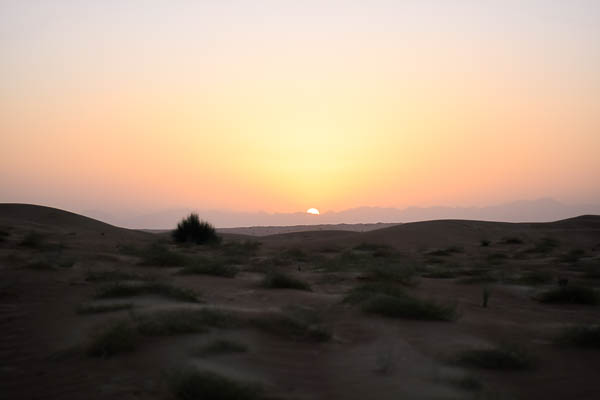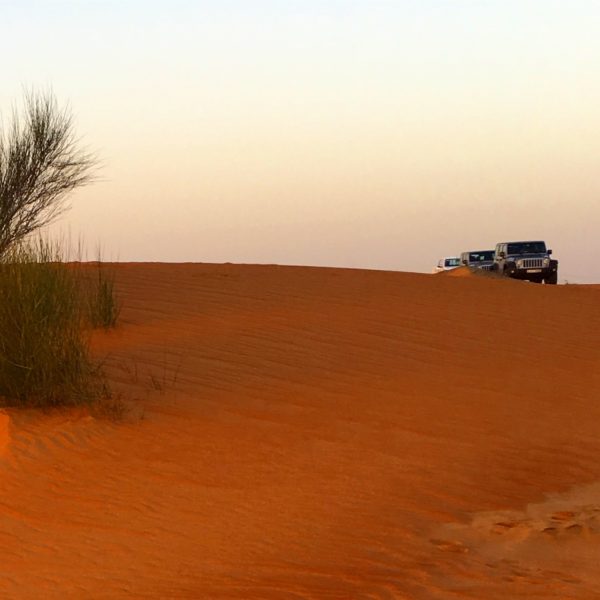 Living in Dubai more than 10 years, it was first time I made it to the desert wildlife, but this was with a food and photography twist. Worry not you do not have to be outdoorsy, photographer or foodie. Just take your smartphone, wear some warm clothes and have your appetite with you, and oh, set your alarm to 4.30 AM.
Ticket to the Unseen Trails, a collaboration between Gulf Photo Plus and Frying Pan Adventures, which explores the extra-ordinary and unexplored areas of Dubai Desert Conservation Reserve aka DDCR costs 400 AED per person. I got mine online. It is 100% value for money "desert safari" sans all those safari camp touristy activities, they are fine too but hardly ever you like to return, Unseen Trails is different. I am already thinking of my next trip to observe the sunrise and experience the quiet desert with cool wind and some birds chirps and desert owl's hooting.
At 5.30 AM on Saturday morning Sheikh Zayed Road was already buzzing beside our meeting point at Time Square Center mall. We were welcomed by lovely Arva from Frying Pan Adventures with cup of hot and sweet chai.  She brought with her Royal Shaheen falconer crew with fleet of delux Jeeps.  We split into our three Jeeps. What a cute welcome committee there was waiting and sitting on the middle console, Mr Kushman, the hawk having al burgha hood on his eyes to continue his sleep. At first I thought it's one of those toy mascots. It was real hawk. Really unusual travel buddy, instant liking.
Keep on scrolling I try not to spoil your experience by telling all nice treats we got,  but have a look to few images I took at desert to get idea. I cannot bring here the beauty and zen of desert, that's priceless experience. I had absolutely no expectations I just made myself wake up and drive to meeting point on the morning, I knew this will be good desert trip, because every Arva's Frying Pan Adventure tours I have made were brilliant. I was absolutely right.
Dubai Desert Conservation Reserve – photography tips and trick from Gulf Photo Plus pros
If you own a smartphone you are all covered, take your fully charged smart phone, you'll capture best images without any fuss. Guaranteed! Think of you FB or Instagram feed,  loaded with lovely desert animals and sunrise shots, must share.  Remember to take an extra power pack with you.  If you want to make use of your DSLR here's  few tips worth reading before you go.
Light:
The light will change quickly, adjust your camera accordingly.
Watch the directions and color of light, before sun rises the sky will have lots of pastel colors. Once sun peaks over the horizon the sand will glow with warmth.
Wildlife:
Consider Shutter Priority and at least 1/200s shutter speed to capture the motion.
Try burst mode to capture a series of images (moving subject)
Create a silhouette, place your subject between the light and your lens, then expose for the sky.
Try filling the frame with your subject, or try having them be a smaller element in you image
Essential camera settings to try:
Always keep your ISO as low as possible to reduce noise in your images
Try Aperture Priority, use f/8 for lots of details in your images
Try shutter Priority, use 1/200s or faster to freeze motion (good at falconry photos)
Select the white balance which provides the most accurate color fo the scene.
Try fluorescent white balance at dawn to enhance the color palette
Capture images in  the RAW file format (takes more space,  remember to clear space in memory card)
Story:
What your image s say?
Capture the details, capture the wider scenes.
Create series of images that help tell the story of your experience
Royal Shaheen Falconers
Falconry was and is an essential part of desert life, Emirati heritage.  Today, falconry is practiced purely for sport, but the skill of the falconer is still highly esteemed and the power and beauty of the falcon greatly treasured. The training process hasn't changed over time.  We were introduced to the female Peregrine falcon (Pandora), male Desert Eagle Owl (Xbox), Harris Hawk (Harry), Common Kestrel (Rogue).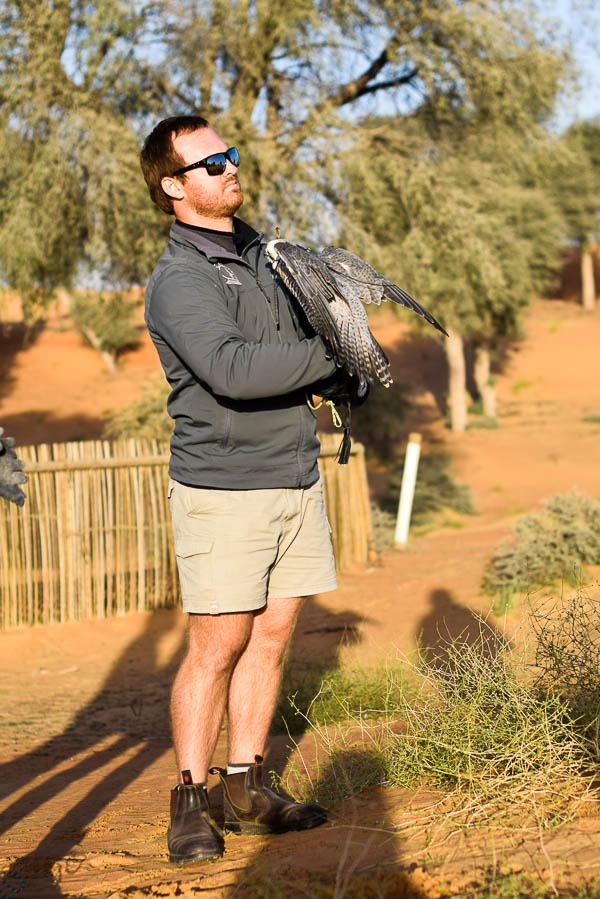 Wildlife sighted
Animals: Arabian Mountain Gazelle and Arabian Oryx
Birds: Black Wing Stilt, Grey Heron, Red Wattled Plover, Laughing Dove, Collard Dove, White Cheek Bulbul, Arabian Babblers, Sand Grouse, Houbara, Grebe, Wild Desert Eagle Owl and her nest of baby owls!
Plants: Ghaf tree and Fire bush
Meet the Ghaf tree
I became a proud Ghaf parent of Amal, keep on reading, because you should too. The Ghaf tree is a smallish thorny tree, with slim branches and dark green leaflets.  Needless to say if tree grows in desert it is the great survivor! The Ghaf tolerates fierce temperatures, burning hot winds and lack of water. The greate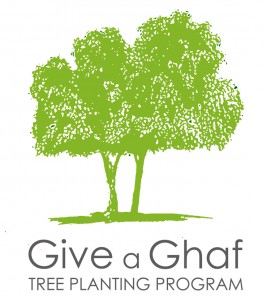 st danger to Ghaf is from browsing by camels and goats; and intensive lopping to provide forage especially during summer. In some places degradation is so intense that Ghaf regeneration has been totally eliminated. Moreover, as urban spread and infrastructure develops rapidly, Ghaf trees often bear the brunt.
For the UAE, an accelerating decline in Ghaf trees and woodlands suggest a loss in cultural and biological heritage. Goumbook wants to preserve wild Ghafs esthetical, cultural and ecological significance and raises a public awareness by conservation program for protecting the wild Ghaf.
Goumbook is an organization aiming at raising awareness on Sustainability and Green Living across the UAE and the Gulf region. Goumbook is a Social Enterprise, not a charity neither an NGO.
To help save the Ghaf tree, Goumbook and its local partners have launched the "Give a Ghaf" program to raise public awareness about the Ghaf and its values, while encouraging people to plant them.
That's about tree planting program,  back to our desert trip. The beauty and one of the many highlights of the Unseen Trails DDCR trip was the giving back aspect. Each of us were able to donate and plant seedling of Ghaf tree at the groves in the desert. I named my little seedling Amal which means Hope in English. I dedicated it for hope of keeping our nature for generations to come. It made me to feel good to be able to contribute to reserve UAE's beautiful nature.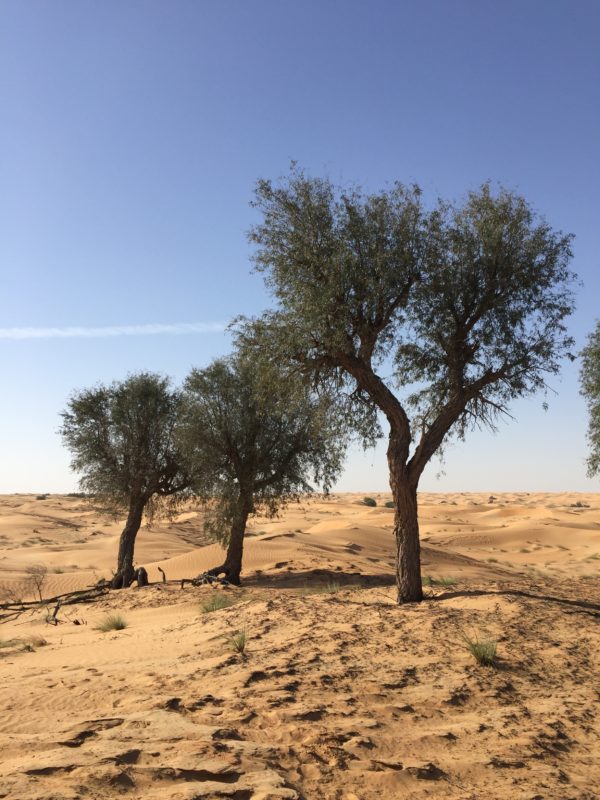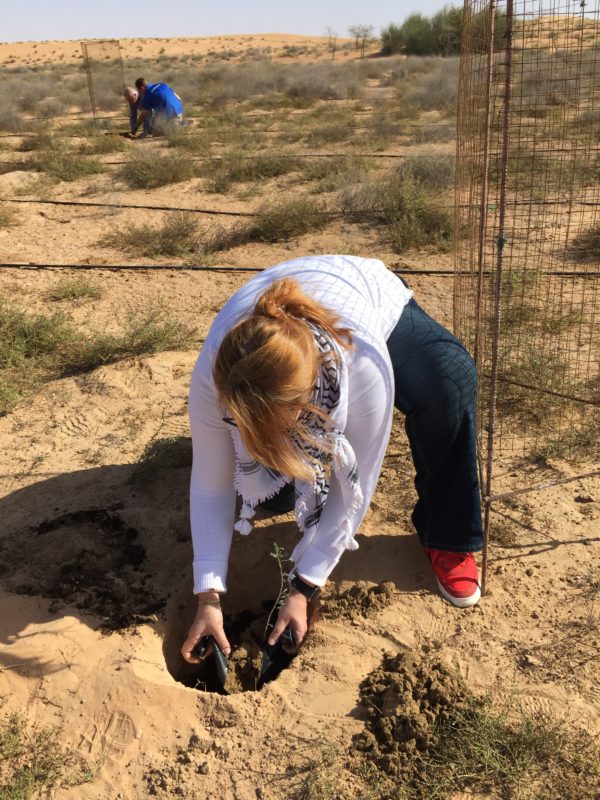 Ah that food – Desert picnic
The last stop was the best part – the desert breakfast picnic by foodie pro Arva's Frying Pan adventures and Baker & Spice,  an award-winning food shop and restaurant from Dubai.  I love their food philosophy it resonates with mine "local,  organic, fresh and homemade.

Nice people from Baker and Spice gave few ingredients pairing ideas to go. My favorite was ka'ak aka sesame seeds bread with labneh, yoghurt-cheese springled with za'atar, black seeds and extra virgin olive oil on top. What about sour dough bread with raw tahini drizzled with date syrup. Nothing taste better than good food al fresco. Baker and Spice have the best breads and jams in Dubai. Yes, true that!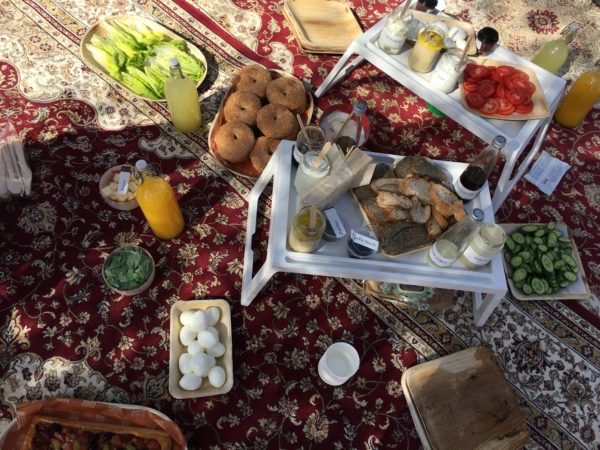 I have always loved the desert. One sits down on a desert sand dune, sees nothing, hears nothing. Yet through the silence something throbs, and gleams.

-Antoine de Saint-Exupéry, The little Prince
Links to collaborators of the Unseen Trails tour:
Baker & Spice –  centre of artisan food excellence
Copyright secured by Digiprove © 2017