It happens to me again and again, that somewhere from my memory I get reminder of simple comfort food I had in my childhood. Now it's Finnish version of empanadas, small hand pies. My mom made these meat pies for outdoor trips in summer and in winter. Already that time it was more affordable to bake at home, although Finnish food markets and street food stalls sell meat pies, it became fancy to buy it outside rather than make it at home.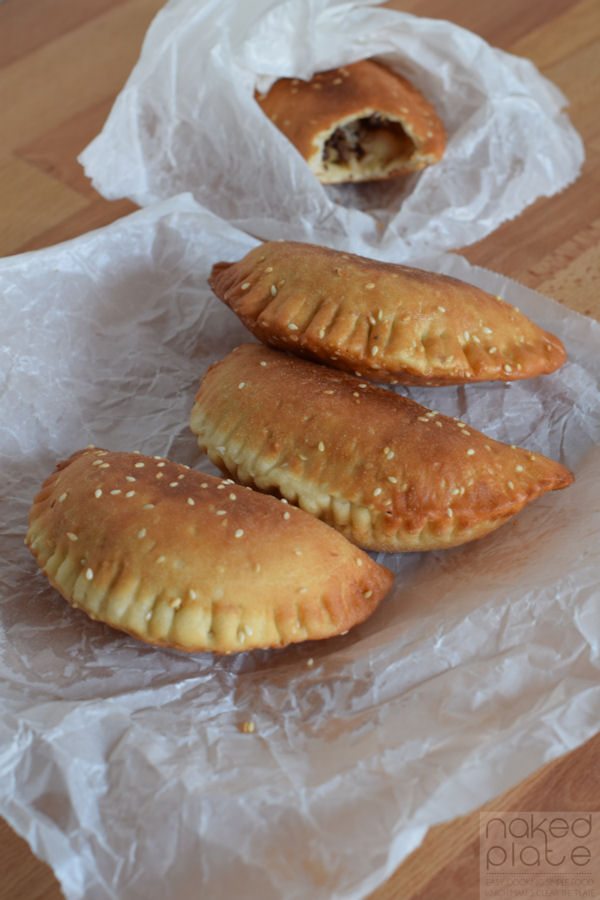 With all respect, the original Finnish food is quite straight forward and simple, not too spicy and having fewer ingredients, somebody could say bland.
The original meat pie recipe is easy, it calls for white bread dough filled with fried minced meat and onion mixed with cooked rice, and finally fried in hot vegetable oil, that's it.
I tuned my take of it little tiny bit with additional chili and some everyday sauces. Chili and garlic are part of modern Finnish cooking already so we can consider these spicy hot mince meat pies all Finnish pies.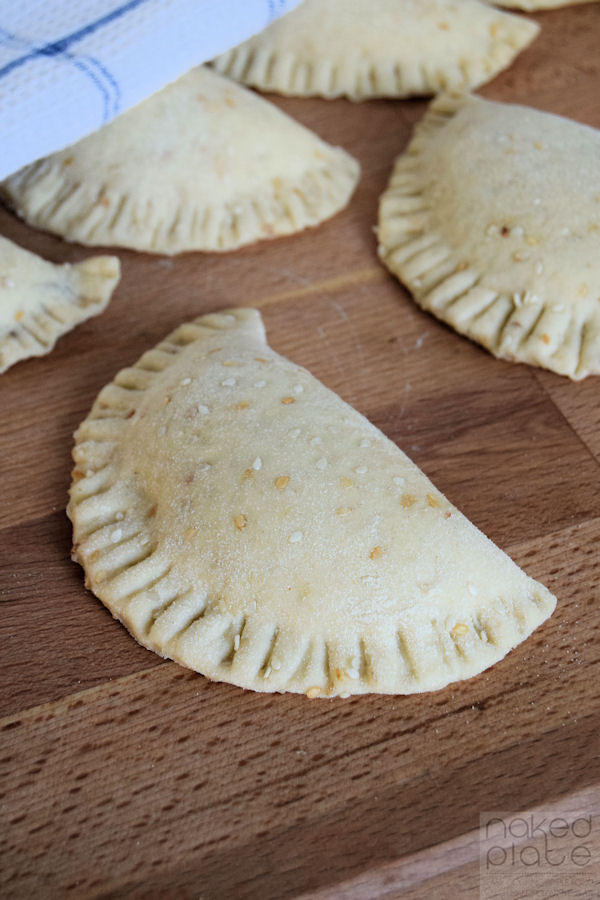 Waspish Chili Meat Pie recipe
(makes 12 small hand pies)
Dough:
I cup of milk
1 ts dry yeast (or 25g fresh yeast)
1 ts sugar
1 ts salt
1 tbs vegetable oil
2 3/4 cup of all purpose flour
(sesame seeds)
Filling:
250 g minced meat (any kind you prefer)
1 small onion minced
1-3 garlic cloves minced
1 ts salt
1 ts ground black pepper
1 ts chili flakes or I fresh chili with seeds minced
splash of Tabasco sauce
1 tbs Worcestershire sauce
1 tbs tomato ketchup
1 cup of cooked rice
2 cups of vegetable oil for deep frying
Make the dough:
Mix yeast in warm milk, add sugar and let it stand until mixture bubbles, just to prove yeast works.
Add flour and salt to yeast-milk mixture, then add oil, mix until dough like consistency. Using hands work the dough about 5-10 minutes until dough looses easily from hands. Cover the dough and let it rise in warm place until double, takes ax. 60 minutes.
Make the filling:
Cook the rice and let it cool for a while.
Mince the onion and garlic and cook on frying pan with oil until translucent.
Add minced meat to frying pan and brown it to crumbly looking
Add salt, pepper and chili and sauces and mix with cooked rice.
Prepare mince pies.
Roll the one time raised dough on floured tabletop till ax. 0, 5 cm thick.
Use round 12 cm diameter bowl or pie mold to make round shapes from rolled pie dough
Spoon 2 tbs of meat-rice filling and brush edges with water turn to half moon shape and seal the edge with fork of pie mold.
Let filled pies rise again ax. 10 minutes in warm place before frying.
Heat vegetable oil ax. 10 minutes and deep fry pies from each side ax. 2 minutes or when golden brown. Use slotted spoon to lift pies from hot oil on to kitchen paper towel to drain excess oil.
Tips:
Light version: give ready filled pies egg wash and bake pies in 190 Celsius degree oven on baking paper ax 10 minutes or until golden brown
Super easy version: for "not-made from scratch"-cooks, use store bought pie dough. It works!
Now say "lihapiirakka"! 🙂 …..it means meat pie in Finnish
Copyright secured by Digiprove © 2014