I am lousy writer, therefore I rather cook and take photos than write posts. Most of the time I struggle to produce decent fluent text to my blog. For that reason this post is about photos which I took at Food Styling and Photography workshop with amazing photographer Meeta K. Wolff in Dubai just few days ago. The workshop was organized by blogger from My Custard Pie Sally Prosser. I am going to add links to the blog posts from other participants, for sure you will find good reads there.
If you love snapping photos like me, or are more advanced photographer and like to know about styling food, then this workshop is for you. Definitely you like to eat, right? 🙂 Don't miss this workshop next time.
I left out the part of Atlantis The Palm visit, it's worth of own post. We ate in three restaurants and visited Nobu Garden. Sally and Meeta, they set the bar high for them self for the next workshop, because we had extra bonus surprise at Ronda Locatelli, Giorgio Locatelli join our table and brought Italian white truffles and lovely stories with him. Auw, auw, auw this girl was sold!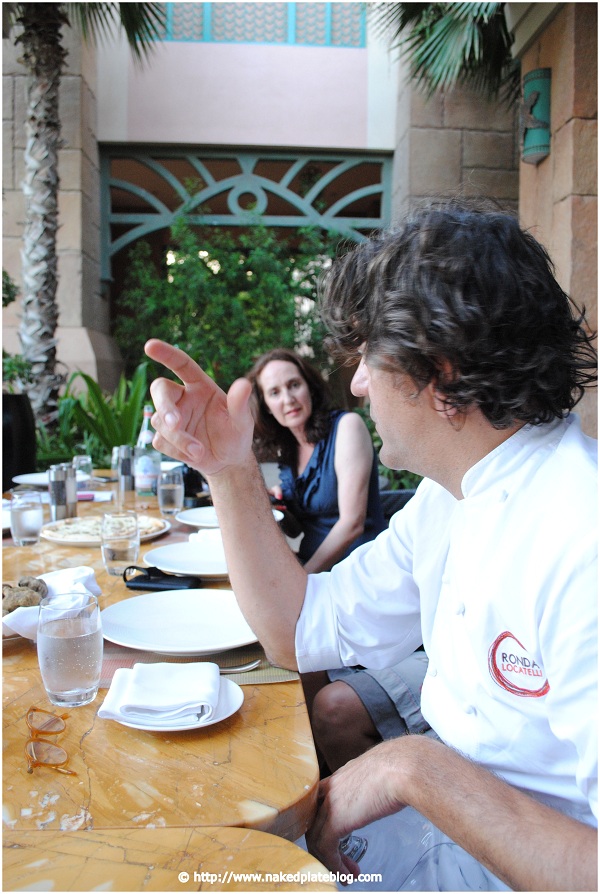 It was really fun packed two days hands on food photography and styling course, including loads of food tasting, cooking, styling practises, serious photographing, less serious photo snapping, social media and Lightroom tips. And hey wait, the bonus, its the goodie bags, they were great value, like those film festival goodie bags 🙂 very generous. One more reason to look forward Meeta's and Sally's Food Photo workshop on 2013.
Photo collage 1: Brunch by Gourmet Culinary Director Russell Impiazzi from Galeries Lafayette Gourmet. Scandinavian Brunch was just wonderful, visit them at Dubai Mall, amazing selection of anything foodie can imagine. We made tasting tour there last April on Meeta's and Sally's first workshop.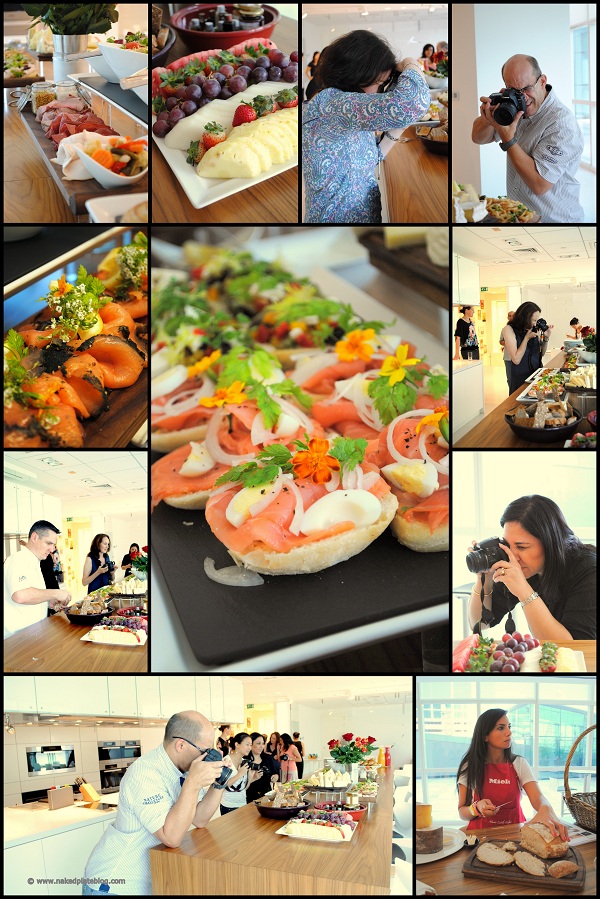 Photo Collage 2: Assignment was to take location, ingredients, cooking and magazine cover photos. Food Artisan Dima Sharif taught us how to make perfect tagine. We had her pumpkin soup and tagine for lunch and after we finished our soup we did the classic food blogger act, stooop, no eating before we take photos. Tagine was our main food model in the photo shoot. All groups had different style and mood for assignment.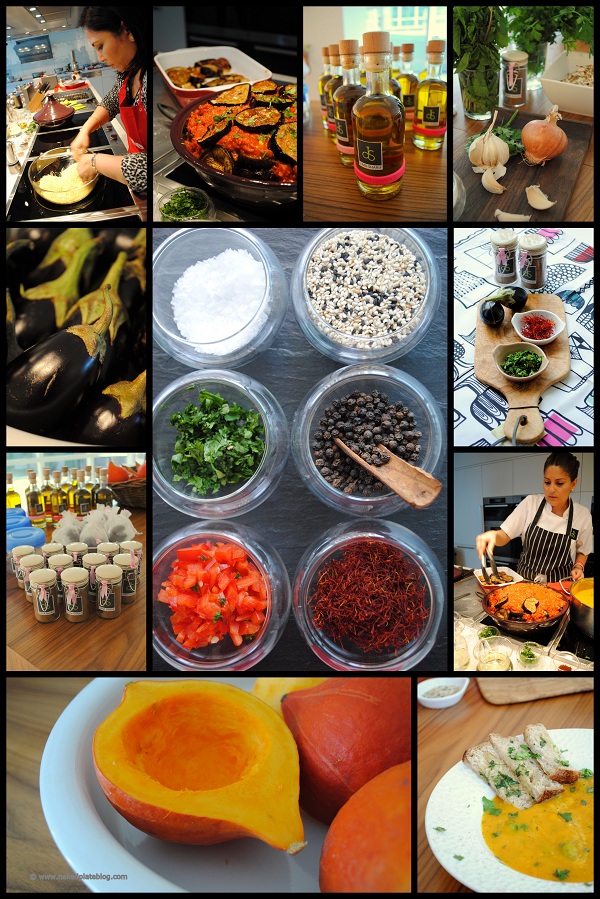 Photo Collage 3: Working with Meeta and learning from others, I worked with Tavola's photographer Antone, not bad hah? The cover picture is Antone's, our cover style was Jamie Oliver with feminine mood. By the way in food styling, I don't like flowers on food photos as props, and this time I got lost and chose red rose as one feminine prop…..erm.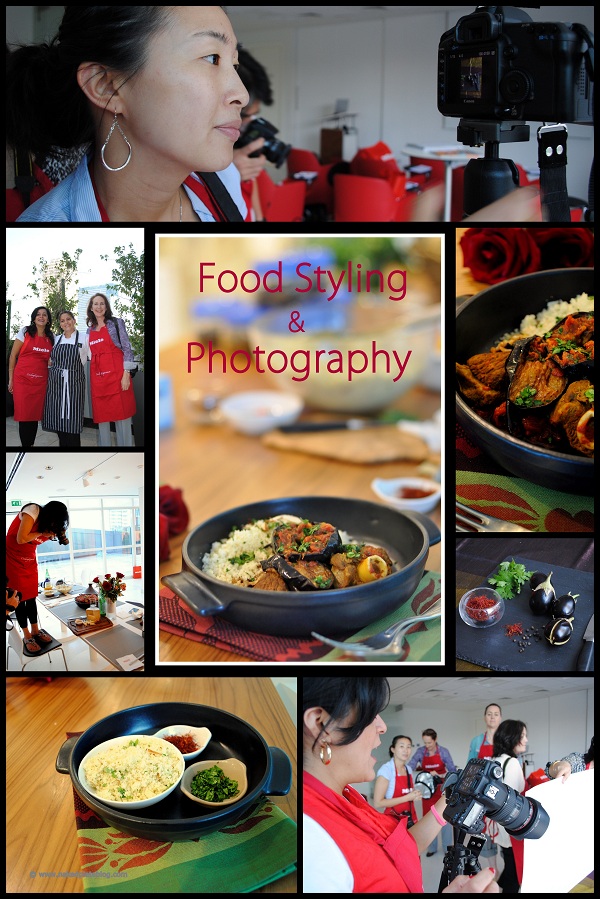 Photo Collage 4: Miele Gallery is really dream place to have cooking demos and food tasting, you get to try all their kitchen appliances and for coffee addict like me, open Miele coffee bar was just hit on head of the nail. Thank You Miele and Gynthia for hospitality. Look at those antique Miele "machines" from their museum. Aren't we just happy that we have advanced ever since?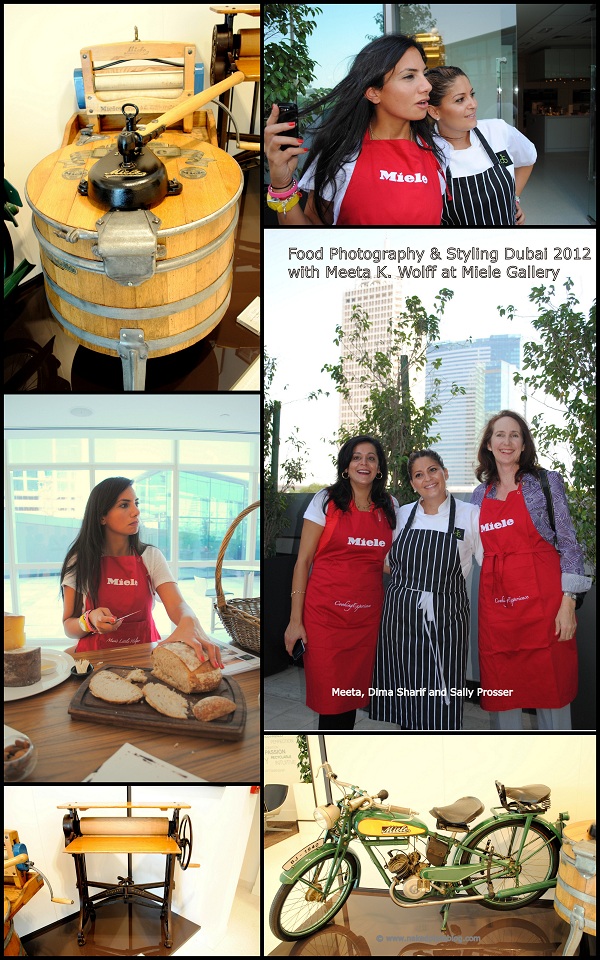 Photo Collage 5: Spanish dinner by Tapeo (Galeries Lafayette) and Chef Russell, Oh that paella, it's the best paella I have eaten in Dubai.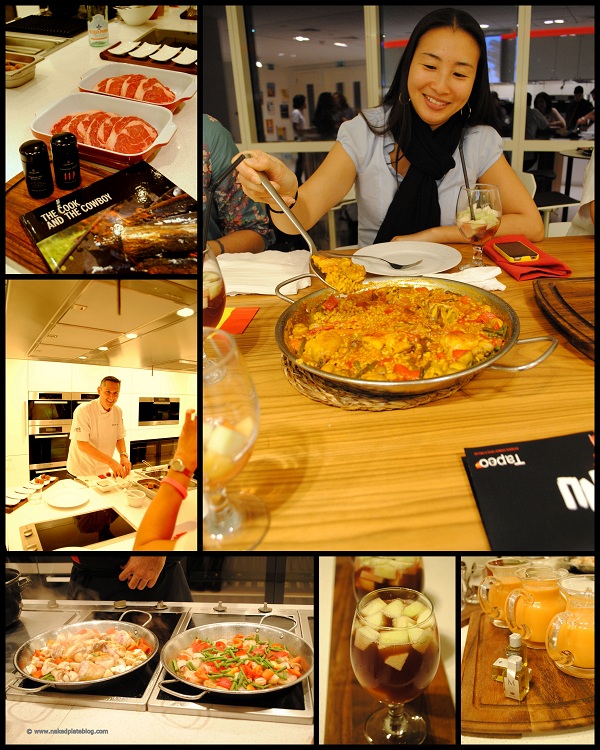 Watch clip of Spanish Fiesta at Miele Gallery
Thank you Shy, Moya, Sandy, Catherine, Lionel and Antone
Moya's Food and Tools
Catherine's SandCat
Shy's Cooking With Shy
Sandy's Ginger and Scotch
Lionel and Antone were the real photographers, We learned a lot from them as well. If they have photo gallery I will add link later, I have seen their work, they are good. Very good.
Thank You for sponsors:
Miele Gallery and Lafayette Gourmet for the place and food. San Pellegrino and Acqua Panna supplied all the water for the two days, and we all left with goodies from them. Artisan made Scottish tablet in some irresistible flavours from Toffee Princess. Luxury chocolates from Lindt, and a card loaded with 50 AED for a Lime & Tonic experience as well as Dima's generous gifts with Breast Cancer awareness and support gifts. My favorite kitchen shop in Dubai Tavola provided props to our workshop.
Atlantis The Palm, Dubai hosted our first dinner and we got to test couple of restaurants.
Dima's blog Dima Sharif
Meeta's blog What's for Lunch Honey
Sally's blog My Custard Pie
Count me in for the next workshop, it's worth of that investment, money and time wise and best of all it's FUN.
Read other posts about workshop
Meeta's blog post at What's For Lunch Honey?
Moya's take on Food and Tools
SandyCat's take on Photography and styling workshop