What's common with Finnish winter and Saint-Tropez? It's Tarte Tropézienne. I know it does not make sense. When I first saw that giant brioche filled with French pastry cream and berries I could not help but thinking of our Finnish Laskiaspulla, a sweet briochelike bun.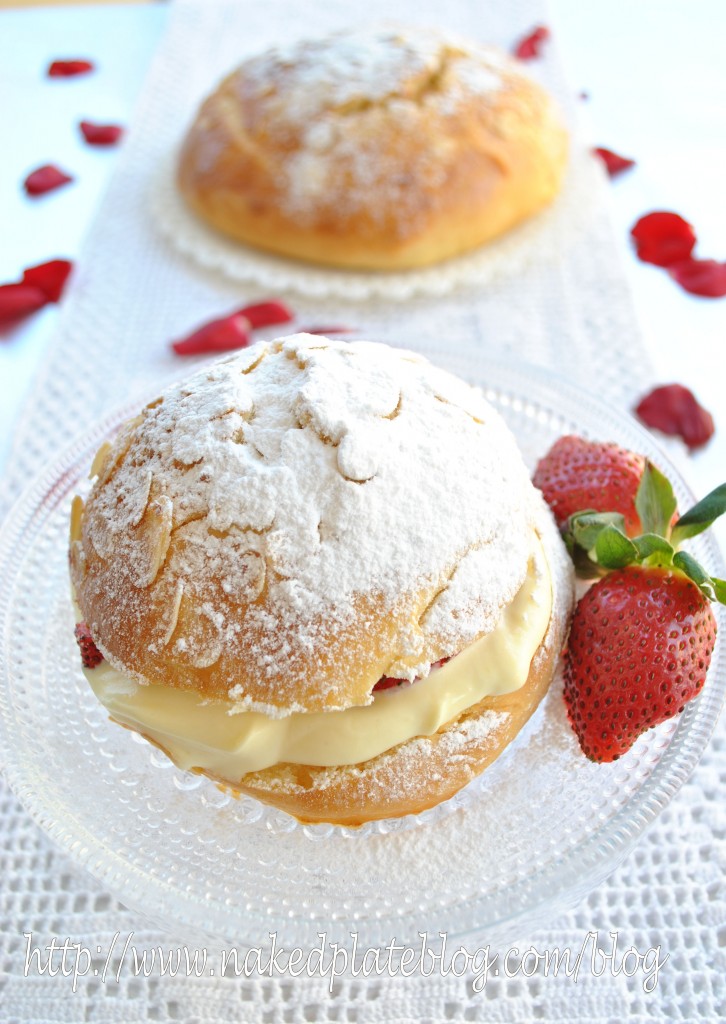 In Finland we bake sweet buns filled with almond paste and whipped cream to celebrate something we call mid-winter sliding festival called "Laskiainen" in Finnish. This year Laskiais Tuesday was 21st of February. Traditionally in Finland, Shrove Tuesday or "Laskiainen" is the day when kids go out to play with their sled or "pulkka" to slide on snowy downhill. Going to slide on the hill is what we call "pulkkamäki".
The original purpose of Shrove Tuesday, Laskiainen, was to get ready for fasting before Eastern, the last festive day to eat heavy and prepare for Lent. Besides laskiaispulla there's pea soup (called "hernekeitto" in Finnish) eaten too on Laskiainen. I dare to say that Laskiainen has unreligious meaning for most of the Finns, therefore mid-winter sliding festival works well as a name of this winter feast.
Back to the giant Brioche….According to the traditional recipe, a Tropézienne is prepared with brioche, French pastry cream (crème patissière) and butter cream. The ingredients which compose this pastry are simple: eggs, flour, powdered milk and butter. A modern recipe of the Tarte Tropézienne includes berries in the pastry cream which composes the cake.
Look at the video clip: At Gérard's Café preparing of genuine Tarte Tropézienne
It took me to come to Dubai to get to know this delicatesse of French Riviera. I went to make Tarte Tropézienne to Gerard's Cafe beside Burj Khalifa on January with Saba Wahid and Monsieur Gérard. I had no idea what kind of cake it is, but wanted to know how to make it. I first got to know Gérard's Cafe at Jumeirah, when I got a tip that we have a real French patisserie around corner near my house. They are baking authentic Galette des Rois, puff pastry with almond paste filling. Traditionally, the Galette Des Rois is made to celebrate Epiphany, which falls on the 6th of January, twelve days after Christmas. They say that the cake is eaten in celebration of the arrival of the three kings who have traveled from afar with gifts for the newborn baby. In practice, people eat galette throughout January. Little I knew about that relation to religious tradition, I wanted to taste it for rather unreligious reasons and was so late on March when I visited Gerard's Cafe. They were kind enough to make it for me, even out of season, and yes I loved it, oven fresh still warm when I picked the cake up….. Oups back to Tarte Tropézienne.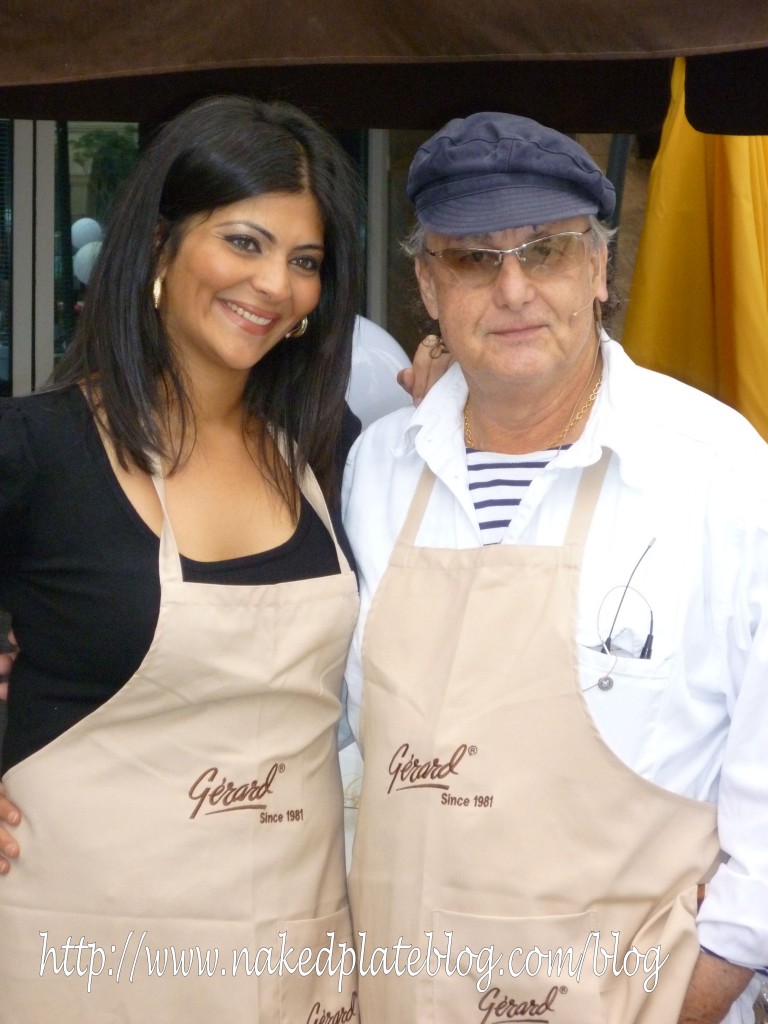 Here I'm sharing with you the Tropézienne recipe of Chef Gérard. He said it definitely needs to be baked with fresh yeast, I dared to use dry one and got a brioche which is exactly as Finnish sweet bun, Laskiaispulla. Hence the round shape and the filling being softer than pastry cream. Custard for a Tropézienne needs to be thick. If you like to challenge yourself, here's the link to homemade custard recipe, just make it very very thick.
Tarte Tropézienne recipe a la Gérard's Café
Ingredients
For the brioche pastry:
500 g all-purpose flour
1 tsp salt
75 g sugar
25 g milk powder
25 g fresh yeast (11 g dry yeast)
125 g softened butter
125 ml water
4-5 eggs
Stone sugar for decoration
Almond flakes for decoration
Icing sugar for dusting
For the cream:
Sugar syrup (boil five parts of water and two parts of sugar, use after its cool. Use few drops of lemon or orange juice for flavor)
Custard cream (mix custard powder according to directions on tin, double the powder to get thick consistency)
Whipping cream without sugar
Step 1
Mix flour, salt, sugar, milk powder. Add fresh yeast and butter. Add the water and three of the eggs, beaten, and mix in a food processor with pastry hook for 15-20 minutes until elastic and soft. Let the dough rest for an hour, in a bowl covered with a napkin, to allow the pastry dough to rise.
Step 2
On floured surface, cut the dough in half and shape into balls. Let it rest again for 15 minutes. (Or you can freeze one of the halves to make another tarte or brioche).
Step 3
On a flat surface roll the dough to 1 cm thick flat round shape. Place on a baking tray and leave to rise for another hour or when it's 2,5 cm (1 inch) thick. Once dough has risen, gently use a pastry brush and spread the top of the risen dough with beaten egg, taking care not to press too hard. Sprinkle with stone sugar (or with regular sugar) and almond flakes. Bake at 160 degrees Celsius for 15-20 minutes until golden brown.
Step 4
Let the baked brioche cool and slice into half horizontally (to fill with cream) with serrated knife. Spread sugar syrup on the inside of lower half.
Step 5
Mix equal quantity of custard cream (prepared with custard powder) and whipped cream until you get light yellow cream. Spread with spatula over the lower half of brioche, leaving a dome in the middle.
Punch the berries in the pastry cream and replace the top layer of brioche over and chill. Before serving decorate with icing sugar.
Voilà