Whaaat! A carnivore and cannot pullout decent juicy steak for a meal! Yes that's me. It's only my second try to cook perfect steak, I have been cooking meat in any other forms but not steaks, for reason. It just have been too scary to waste nice meat by my amateur hand, so I have left steaks to be an occasional treat done by real chef de rôtisseurs.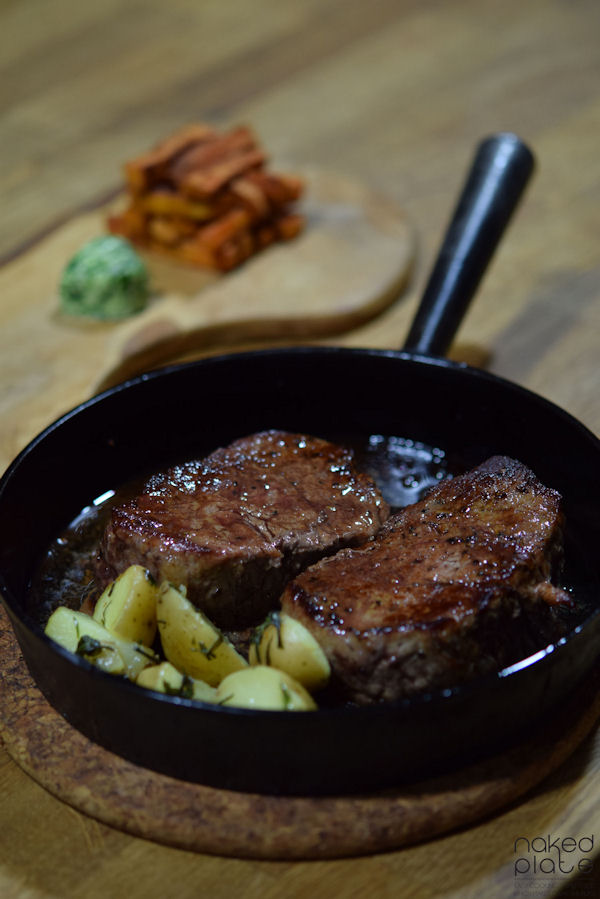 This time I took the challenge when I was offered to try OBE Organic meat. Lucky me I got to take home from Carrefour (local Dubai distributor of OBE Organic meats) nice big piece of organic fillet mignon.
I undersign OBE Organic's words about their meat, it's amazingly good flavor organic beef and is something that has to be tasted to be believed. I have shifted my cooking as much as possible to organic produce and near grown foods. Knowing there's a clean, certified 100% organic and natural, free of chemicals and growth promotants and Halal certified meat option in Dubai ticks all boxes in every ones requirement list, doesn't it?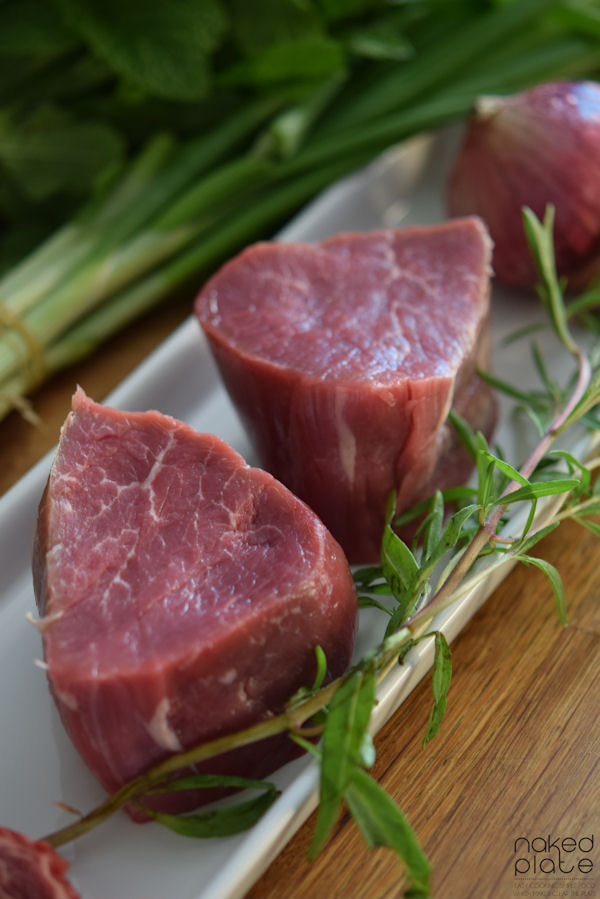 Making the perfect steak is two fold challenge. First you must have good quality of correctly cut meat and secondly you must know how to cook it. First one is easy part, just locate the best butcher in your neighborhood and you are all done. The real challenge is to win yourself to give it a try. Follow simple steps and you cannot fail. The sear-roasting technique seems the most easiest to follow, kind of fool-proof way to prepare steaks.
Sear-Roasting Steaks:
1. Take the meat to room temperature at least 1 hour before you cook it.
2. Rub the steaks with oil and mill couple of rounds salt and pepper on both sides and set steaks aside.
3. Preheat oven to very hot (ax. 250°C).
4. Use cast iron skillet it is the best in terms of heat and taste it gives to meat (any ovenproof pan works as well) and place it on stove,  let it heat until drops of water sizzle on it. Brush with cooking oil.
5.  Set steaks on hot pan and cook 1 to 2 minutes without moving. Turn with tongs and cook another 1 to 2 minutes.
6. Remove skillet from hot stove and put it with the steaks into the preheated hot oven. Cook an additional 3 to 5 minutes, depending on thickness of steaks and desired doneness. (see on video on 4.20 sec how to make simple finger test, seriously and I don't mean to burn your fingers… )
If you have thermometer it will be quite useful now. Stick the thermometer into the meat from side to test right doneness for you:
| | | | |
| --- | --- | --- | --- |
| Extra-rare or Blue | very red and cold | 46–49 °C | 115–120 °F |
| Rare | cold red center; soft | 52–55 °C | 125–130 °F |
| Medium rare | warm red center; firmer | 55–60 °C | 130–140 °F |
| Medium | pink and firm | 60–65 °C | 140–150 °F |
| Medium well | small amount of pink in the center | 65–69 °C | 150–155 °F |
| Well done | gray-brown throughout; firm | 71–100 °C | 160–212 °F |
7. When the steaks are done to your liking, remove from the hot pan, cover loosely with aluminum foil and let rest another 5 minutes before serving.
To be perfect serve on heated warm plates. I served mine with boiled new potatoes sauteed with fresh rosemary, some air fried sweet potatoes and parsley butter.
Here's the best easygoing video clip I found to get the idea of sear-roasting method. I guarantee it's really easy when done in oven.

Note from editor, I got 100 AED Carrefour voucher to spend to OBE Organics meat to try and cook. I chose 370 g beef fillet which cost 190 AED per kilo. I bought also ribeye steak of 200 g and it was darn good as well. I will definitely return for fillet again, now that I mastered the fillet mignon!!! It's so bliss to know that meat does not contain any residue of medicines or chemicals, just clean, healthy and nutritious safe meat.
Copyright secured by Digiprove © 2014