Parsley and mint are regular ingredients in my cooking, not so in baking though. I could not believe how good this simple twisted herb bread turned out to be. I had already made decision time ago to avoid white flours in my home baked breads as much as possible. We had spelt and rye flour reserved for home bakery, I picked spelt and tweaked the basic recipe which I got from my secret Finnish baking buddy.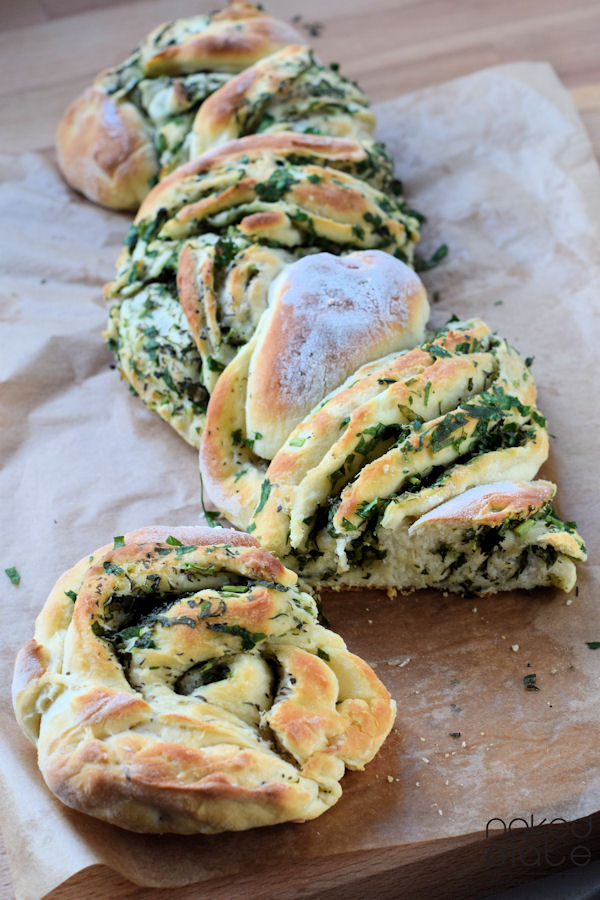 Twisted Herb and Spelt Bread Recipe
100 ml milk
250 g of fromage frais (quark) or thick natural yoghurt
1 ts dry yeast or 25 g fresh yeast
1 tbs sugar
1 ts salt
300 g spelt flour
25 g smelted butter
FILLING
25 g butter
1 cup finely cut fresh mint and parsley
1 tbs dry thyme or za'atar
1 tbs dry oregano
1 tbs dry basilica
Mix dry yeast with warm milk and sugar, let stand until it bubbles
Mix milk-yeast mixture with warm fromage frais and add salt
(If fresh yeast is used crumble it to lukewarm fromage frais and milk mixture and add sugar and salt).
Add half of spelt flour with fromage frais and milk-yeast mixture and mix well. Add rest of the flour and smelted butter and knead until nice slightly sticky dough forms, ax 5-10 minutes.
Let rise double of size covered with plastic foil or tea towel in warm place.
Roll risen dough into a rectangular shape on well floured table (n.30x40cm).
Brush the rolled bread dough with very soft butter, sprinkle dry herbs and spread fresh finely cut herbs over the dough.
Roll as if you would make swiss roll and lift the rolled bar on baking sheet covered with baking paper.
Cut the rolled bar from top to two parts leave connected from other end.
Twist with floured hands halved bar around each other, snip the ends together.
Let rise about 10 minutes covered with tea towel and bake in 200 Celsius degrees ax. 20 minutes or when golden brown.
***
Here's two snapshots from my Lumia-phone camera to give idea of shaping the bread from roll to twisted bar, not so pretty I know, but that's the beauty of baking at home. Taste is winner!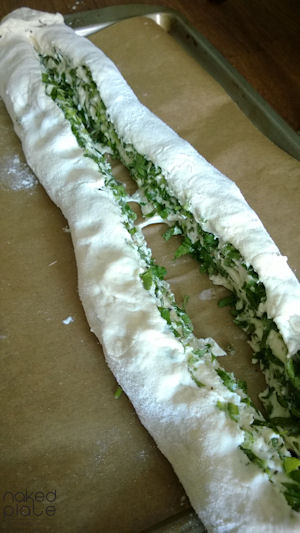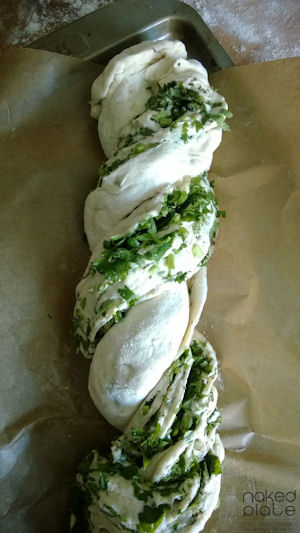 ***
There ain't better food than fresh home baked bread. Buttery herbal Twisted Herb Spelt Bread is best as is, or with side of mixed salad or soup.
Copyright secured by Digiprove © 2014